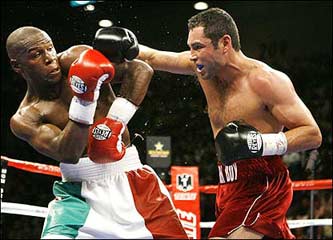 Find out the meaning of defense. The basic idea of defense and how to raise your defensive mind and awareness in the ring.
QUESTION
What is the definition of defense? Or put simply, what is defense?
ANSWER
Many experts may tell you it's a position, a stance, or a trained reaction.
Defense includes all of the above but more importantly and most crucially, defense is state of awareness. Yes, I said – defense is an awareness. So basically, if you're thinking in terms of defense and keeping it in the back of your mind as you box, you have defense. If you don't think about your defense as you're walking into range of your opponents' punches, you'll likely get hit by one.
Awareness of What?
You should more or less be aware of everything that your opponent may be trying to do to you. At the most basic level, you should be able to tell when he's going to punch. At the highest level, you should be able to see what traps he's trying to set on you and where he's looking to counter your punches so that you may bait him into one of your own. You want to be able to read your opponent's mind and see what he might be hiding. Is he hiding a big counter-punch? Or maybe he's hurt? Or maybe he's tired?
When you box at the higher level, every boxer's reactions have become second-nature reflexes and instead of being aware of single punches, you now have to get into the rhythm of evading entire combinations one after another.
Myths
Defense as a stance
Again as I've stated before defense is not a stance. There are so many beginner fighters out there that go around looking for the best possible defensive stance. The obvious answer is that it DOES NOT EXIST! There is no one best stance. Every boxer or fighter is different and every stance has its own share of offensive and defensive strengths and weaknesses. While copying your favorite fighters' defensive stances might be a good idea, your best bet is to try them all and find one that really fits you. You'll often find that you don't hit as hard as you think or that you're not as fast as you think.
Hands down is bad
Many beginning boxers are commonly taught that putting their hands down is bad and while this is true, there's more to defense than just having your hands up. You have to be aware! If you've got your hands up and your awareness down, you're still going to be hit more than a boxer that has his hands down and awareness up! Look at Roy Jones in his prime! His reflexes were superior to everyone's and while he fought with his hands down, he was still untouchable because his awareness is so high!
Of course I'm not suggesting that you fight with your hands down. Obviously, all beginning boxers with low awareness would last longer with their hands up. My overall point is that the ultimate goal is not to keep just your hands raised all the time but to keep your defensive awareness raised all the time!
Raising Your Defensive Awareness
Spar more at a slower speed so you can get used to seeing ALL the punches instead of just catching them blindly on your gloves.
NEVER look away from your opponent – NO MATTER WHAT! It's hard to learn how to avoid punches that you don't see!
Spend more time on the double-end bag so your eyes get use to catching something that's moving fast and wildly.
Control your fears and keep them on check! If you're scared, it only hurts more!
Understand that if you're looking at the punches, they hurt less than if you're not looking.
Understand the strengths and weaknesses of your defensive stance so that you know what kind of punches your opponents might be tempted to throw.
Know some other great ways of raising defensive awareness or have some cool boxing tips to share? Feel free to comment and I'll add the best ones here!