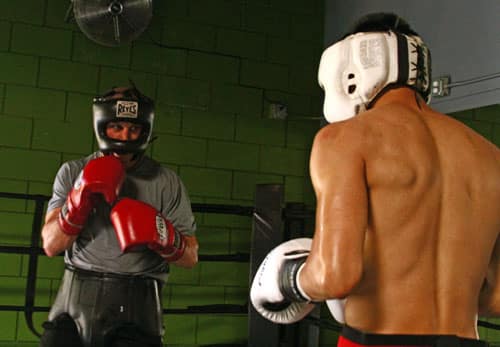 DING! DING! DING! NOW WHAT?!
If you're like most fighters; you were more prepared before the bell than after it. Craziness ensues in real fights. There's no time to sit and think about what you want to do. Technique and strategy goes out the window when all you want to do is defend yourself.
Luckily, there is a better way. It's called the feeling out process. The feeling out process is what keeps fighters from being torn to bits before they've even straightened out their headgear. The feeling out process is how smart fighters turn a difficult match around and get the victory even when they're out gunned.
But how do you do it? If you thought feeling out meant moving around and stalling the fight with jabs, YOU ARE WRONG!
The Feeling Out Process
The feel out process is probably one of the most misunderstood boxing strategies ever conceived. The idea is basically to be patient and take your time when the fight begins. If you've ever tried this before against a high level opponent (or even some brawlers), then you know it doesn't work 99% of the time.
Every fight starts out even. Nobody knows what another person's style is like. Both fighters (assuming they are equally skilled) have just as much chance as landing against each other. Knowing this, the one who throws first will usually land first. After all, you're either punching or defending. I don't have any problems with fighters being told to be patient and to use their intelligence. What I do have a problem with is fighters not fighting during the fight!
RULE #1:
always be fighting!
Yes, you are ALWAYS FIGHTING!
You are ALWAYS READY TO FIGHT! As soon as that bell rings, you better be ready to throw punches and defend without having to think! Here's where some fighters complain, "But how can I throw the right punches and use the right defense without feeling out my opponent first?"
…that's why there's this magical thing called training…
Training should have refined your technique and reflexes to the point that they've become automatic. Everyone knows how to throw a proper jab. Everyone knows how to block, knows how to counter a right hand. But the question is: can you do it automatically? Can you fighting without having to think?
The feel out process is for the dominant fighters
The feel out process is not for the weak. Weak fighters get destroyed. Whether or not they think, they were going to lose the fight anyway. If anything, I would say that thinking makes weak fighters even weaker. If you're the less skilled and less confident fighter, I would suggest for you to go out there and be wild and do whatever comes naturally to mind. Trying to "feel out" your opponent will likely prolong a slow embarrassing beat-down. If you're going to lose, it's better to at least get some shots in and earn your opponent's respect. The more you guys think, the more likely the better skilled fighter will win!
Now for the skilled fighters and the strong fighters, you guys are the ones with the privilege of feeling out your opponent. Dominant fighters have all the time in the world to think as much as they want. You're not afraid of fighting because you win every time you exchange. The reason you feel out is so you can maximize your exchanges. This is why the feel out process is for FIGHTERS, not thinkers.
The feel out process is for
FIGURING OUT how to hit each other,
not for WAITING to hit each other.
And the real trick to the feel out process…is being able to do it WHILE YOU'RE FIGHTING.
As I've said before, it's for the dominant fighters. The stronger, better trained guys. These are the guys who can think while they fight. Their skills are so well trained that they can throw combinations while figuring new angles of attack against their opponents. Their technique is automatic and so their head only has to worry about strategy. Lesser skilled guys are still busy worrying about technique and therefore they get in trouble when they give up their focus on technique to think about strategy.
Dominant fighters can fight AND think at the same time.
Weak fighters can only fight OR think.
How to Feel Out Your Opponent
Assuming you're well-trained enough to fight on auto-pilot against ANY OPPONENT, here are the things I would think about at the beginning of every fight:
How aggressive is he?
How much power does he have?
What punch should you avoid?
Is he a forwards fighter or a backwards fighter? Is he a trigger-happy brawler? Or a patient tactician who waits all day for you to make a small mistake? What are his best punches and how powerful are they?
An aggressive fighter with powerful punches means I have to be ready to block punches and fight for the center. I never like to give up ground too early because he might get the idea I'm easy to push around. A passive fighter can be the easiest to beat or the most dangerous. They're easy because they let you walk them down and take their ground. But they can be dangerous because they really know how to catch you with coming in.
What's his style?
What are his habits?
What are his favorite counters?
What are his tricks?
Style isn't something I can explain easily. When I say style, what I mean is…how should you deal with this guy. Compare what he does to what you've seen before. The way he holds his hands or moves his feet around the ring. The way he blocks and slips. There's no time to analyze him. You have to quickly match him with a similar style you've dealt with before and follow some patterns. With time you'll hopefully figure out what he's trying to do.
What are his favorite counters? Everyone has many but your job is to at least figure out one. After the first minute, you should be smiling to yourself, "A-HA! So THAT'S what he likes to throw!" And use that to your advantage the rest of the fight.
How to figure him out
Try to take his ground and see how aggressive he is in holding his position. Take a step forward and see if he bounces back or throws vicious counters. Some guys like to walk you down slow. Others like to walk away slow. Some guys like to jump back and forth.
The next test is to throw some punches at him. What does he when you jab? Or when you throw the right hand? Is he more likely to defend and then counter? Or does he counter immediately? Or does he not like defending at all and just moves away entirely.
How does he respond when you defend? Is he a cautious attacker? Some guys like to throw a jab and see what happens. Others will throw entire combinations into your guard without any worry of retaliation.
The feel out process is automatic!
The truth is, I don't really ask myself all these questions when I fight. It's a natural process refined over years of fighting. I honestly have no idea what's going on when I fight. I'm not analytical, or emotional, or even physical. After getting in the ring a million times, I've learned to just enjoy the process.
I get in there and do whatever is needed to win. I throw punches the way I've been trained. I defend punches the way I've been trained. And I'm always looking for new ways to penetrate my opponent's defense. I fight and feel out at my opponent at the same time but this happens on a sub-conscious level. I guess that's what they call being "in the zone". On a conscious level, all I'm really doing is enjoying the fight.
Learn to fight,
and then the feeling out process becomes natural.
Every fight requires 2-way communication.
The feel out process is really just a method of acquiring feedback while you fight. If you're not fighting, you won't have anything to feel out. Fighting is a 2-way form of communication. Kind of like speaking and listening. And 2 way communication is FEEDBACK & RESPONSE. Feedback requires alertness and paying attention to your opponent by feeling him out. Response requires fast trained reactions which are developed through training.