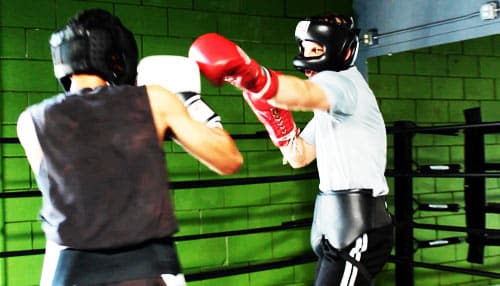 The jab was supposed to be your safest weapon. It's supposed to be your fastest, longest weapon and make it safe for you to get into range and land your bigger punches.
But if you can't throw that jab without getting countered, then you've basically got no chance in the fight!
You've done your homework. You know how to jab. You know how to move your head. You know how to listen to your coach. You know how to fight and STILL, you're getting countered.
So what do you do now?
Brawl?
Run?
Or even worse…stop throwing the jab??? *GASP*
Don't start getting wild just yet. Here's what you do…
Should you ALWAYS jab?
The jab has pretty much been the first commandment of every boxer's bible. It's THE THING you're supposed to master as a boxer. My trainer told me the jab was my ultimate weapon. My most IMPORTANT weapon. The answer to all my problems.
Want to establish your range? THROW THE JAB.
Want to hit your opponent? THROW THE JAB.
Want to get away? THROW THE JAB.
Want to time your opponent? THROW THE JAB.
Want to set up your knockout punches? THROW THE JAB.
Want to fight an aggressive fighter? THROW THE JAB.
Want to fight a slick boxer? THROW THE JAB.
Shorter fighter? JAB
Taller fighter? JAB
Faster fighter? JAB
Slower fighter? JAB
Not sure what to do? JAB!
JAB JAB JAB. Here was this magical cure to all my problems, supposedly versatile enough to fit into ANY situation. And it was making me lose!
When I jabbed going forward, I got countered.
When I ran away and jabbed, my opponents just followed me and took away my ground anyway.
When I stood still and jabbed, my opponent exchanged harder punches.
Even when I landed my jab, it didn't have any effect.
Throwing the jab in a boxing brawl felt like bringing a knife to a gunfight.
And after a while, I just gave up. I got scared of getting countered. I had enough negative reinforcement that I lost all faith in my almighty weapon. So I stopped throwing the jab. And then guess what my trainer yelled next——THROW YOUR JAB, JOHNNY! THROW THE JAB! YOU'RE LOSING 'CAUSE YOU'RE NOT JABBING! THROW THE JAB!
I want to make my trainer happy, but I also don't like getting my ass kicked. And so I throw half-assed jabs…and boy, that turned out to be an even worse idea. Half-assed jabs are worse than throwing nothing because not only are you wasting energy throwing a punch that doesn't hurt, you're also momentarily exposing yourself to counters.
Oh, what to do, WHAT TO DO?!
Why are your jabs getting countered?
The problem has to do with either your technique, your strategy, or your approach…or maybe well, your opponent is just flat out better than you. Assuming all variables even, there's a good chance you're doing something that's getting you countered every single time. Better yet, you're probably the one making it EASY for him to counter you.
Common Jab Mistakes
Telegraphing
I have to start with this one because it's most likely the biggest reason why your jabs are getting countered. Look, it doesn't matter WHAT you do, you're going to get countered if you're doing ANYTHING predictable. You could have the fastest jab in the world and STILL, you will be countered if your opponent knows it's coming.
So what do I suggest? Switch things up. Aim your jab at different places. Or throw it at different moments. Throw your jab from different body positions. Or move around a bit before you jab. Or use a feint before you jab. Or better yet…DON'T ALWAYS LEAD WITH A JAB!
The #1 reason your jab gets COUNTERED:
you're being PREDICTABLE.
Bringing your head in with the jab
Keep your head behind the shoulder when you jab. Don't lean it forward. Reach with your arm, not your head. Analyze your posture in the mirror when you jab. If your upper body is tilting forward in any way that gives your opponent an uppercut angle when you jab, then you're basically moving your head closer to him as you jab. It's a huge mistake (unless you absolutely know what you're doing) and you're going to eat a nasty right hand for it.
Too slow 
I wouldn't say that it's because you're too slow as a fighter but perhaps there is something you're doing that's slowing down your jabs. One example would be having too much tension. Another would poor jabbing technique. Such as trying to "push" the jab instead of "snapping" the jab. Another common problem with beginners is trying to rotate the hips and shoulders for more power.
Anything that you do to add power may potentially decrease the speed of your jab, and ESPECIALLY decrease the speed of your double jabs. Not only will that extra movement slow down your jab but it will telegraph your jab even more and ultimately wear down your front arm faster resulting in slower jabs in the later rounds.
I won't use this article to talk about jabbing technique but you definitely need to master your jab technique to have the fastest and most functional jab possible.
Not committing to the jab
This is a funny one, actually. It's usually the guys that are getting their jabs countered that are the ones not even throwing jabs. Let's switch shoes for a minute. Imagine you're the guy GETTING jabbed. For you to counter the jab, you'd first have to process the attack right? You'd have to be cautious about the jab, then devise a plan to evade it and ultimately a plan to land your own attack in return.
Well, if the guy throwing the jab at you isn't really committing to his jab. Then you don't have anything to worry about. You're not worried about the power, not worried that it's gonna land, you'll just disregard it and fire right through it. Well this is exactly what's going to happen if you're the one not throwing a good jab in the first place.
You need to throw a real jab in the first place. You need to have some intention, some power (just a little), something to make your opponent think about your jab instead of thinking about his counter. Your jab needs to get his attention. If all you're doing is throwing one jab at a time or always running right after you throw a jab, you're basically communicating to him, "I don't really want to fight; you are free to take my ground and attack me all you want because I'm too scared to throw any real punches at you."
Now committing can be the most confusing thing. Because here I am telling you to commit. But on the other hand, you're taught to pull the hand back quickly or else you'll get countered. So how long do you leave it out there? I say leave it out there that tiny split-second longer if that's what it takes to commit. And thennnn snap that hand back. Or you could also try using a flicker jab.
Basically you're hand is either going out, going back, or staying still in place. But you can't do all 3 at the same time. Which is what many beginners try to do. They try to throw a punch while trying to pull it back and defend their face at the same time. It's impossible. Whatever you have to do, commit to it, and then do something else.
Poor technique
A good jab should have a bit of speed, be non-telegraphing, recover quickly, and have a bit of pop to it. If your jab technique is subpar, you'll find that it will lack in one or more of the four areas I just mentioned. Ideally your jab should be fast enough to surprise an opponent and hit hard enough to make him wary of it. If your opponent isn't afraid of your jab, there's a good chance your technique is slowing down your jab and making it too predictable or removing power off the jab.
Of course, there's much more to a jab than the raw qualities listed above. It also has to be set up well, be accurate, and deployed in clever ways. It's not enough to just throw it out there. A GOOD jab is one that lands.
How do you know if your jab is good enough? The easiest way to know is if it works. If lands and helps you control the fight. And that you have confidence in it. How do you know if your jab is competitive? Go to a boxing gym and watch how the more experienced fighters use the jab.
If you've never even seen a pro boxer use the jab right in front of your naked eyes, how would you even KNOW what a good jab looks like?
Different Ways to Attack With the Jab
Change the moment of your jab
This is a huge tip. Too many guys go out there and just throw the jab as a default rangefinder in the first 3 seconds. Bell rings. He walks into the center and touches gloves. He backs off, shuffles around laterally, then skips into range and throws a test jab. I swear it's like they all came from the same auto-programmed robot school of boxing or something.
Every now and then, you'll get a smart guy who DOESN'T throw that first jab. Or a guy who walks out with a big counter right or counter hook for that auto-programmed jab. And sometimes early stoppages even happen that way.
Now imagine this situation duplicated for a dozen other scenarios in boxing. Here are some common jab moments I remember off the top of my head:
right at the beginning of a fight (range finder)
anytime there's distance between the fighters and they come together (range finder)
anytime after one guy starts to throw jabs (the other remembers to establish his own jab)
after circling away from the ropes
when 2 guys are posturing and using a lot of head movement in front of each other
when a guy exposes his head after using a high guard
when one guy is standing still (the other tries to "test" his guard)
Try mixing in those common moments with these uncommon moments:
right after you land a combination
while using footwork and looking like you're going to just walk out of range
when your head is slipping to one side and looking like you're not going to jab
when you're crouched
when your opponent is moving instead of stationary (use the jab to try and force him to sit still)
right after he throws his right hand
The biggest problem is jabbing when your opponent is prepared for it. So you have to attack when he's unlikely to throw anything back at you. Such as when he's moving around himself, or when he's already thrown his right hand and it's not retracted yet and can't counter you anytime soon.
Use a feint
Instead of jabbing right off the bat. Use a feint to fake out your opponent and THEN throw the jab. Or feint a jab and then throw something else. Faking the jab is one of the fastest ways to teach your opponent not to concentrate too hard on your jab.

Use different jabs
Throw faster but lighter jabs. You can also try extending your arm out more so it's more like a touching/pawing jab. If you haven't been able to touch him, it's important to try making contact with him to disrupt his rhythm. No fighter likes being touched anywhere. You can bother him even by constantly making contact with his arm.
Aim at a different target
It's really important that your jab hits something if you want to make it harder for him to counter. You've got to hit his face, his body, something. Don't always aim for the same place. Aim somewhere different and he'll have to think more and it'll make it harder for him to predict and less time for him to counter.
It's important that you don't headhunt so much. Every fighter is accustomed to having you aim at his head. And if you're always aiming where he thinks you're going to aim, that's only going to make it easier for him to set traps for you. Try aiming for the chest, or the body, or even his arm or shoulder.
Head movement
Move your head when you throw the jab. Don't just leave it straight up. You can tilt it down to the side, or slip slightly to one side when you jab. Or better yet, start off with your head slightly tilted to the side, then bring it back to the center when you attack with the jab. Basically…your head's gotta move if he's aiming a counter right to your head.
Come straight in with the jab
This can be really good or really bad advice depending on how you execute it. If you're simply running forward behind a jab, you're going to get popped hard if he exchanges with a harder shot.
On the other hand, if you're being tactical, setting up the right moment, and then coming forward up the middle with a hard jab…this is perfect for forcing him to move off the center which then makes it harder for him to counter. Like I said, it can be very good or very bad advice depending on how you take it.
Focus on your second shot, not the jab
Earlier I mentioned something about committing to the jab and now I'm going to say the opposite. Try focusing on your SECOND punch instead of your jab. For example, focusing on the right hand that comes after your jab. Or a left hook after your jab. This helps you in several ways…one is that your opponent will also focus on your harder punches and take his attention off of your jab.
Nobody is going to try to counter your jab if he feels you're trying to hit him with something else.
There is also another option for your second punch—-throw another jab! Yes, two fast jabs is going to give him problems if you're being purposeful with them. Speed, power, disruption, range…use the double jab! I know it's scary to throw two jabs when you're not even confident enough to throw one. But try it, and do it for real!
Counter his defensive maneuver
If you know how he's going to block, parry, slip, roll, or defend…make sure you have an answer for that.
You have many options in case he defends your jab:
If he blocks – have your right hand ready to pierce his guard if he opens up to counter you. Or just be ready to slip his counter.
If he blocks or parries – convert your jab into a quick left hook. Especially useful if he defends with his right glove.
If he tries to come forward after blocking or slipping your counter – use your hand to extend and push his head away. This can be easier than trying to recover your arm quick enough to defend the counter.
If he rolls or slips under your jab – use your hand or forearm to push his head down as you move away.
If he slips to a new position – aim your right hand at his new head position or even his body.
Counter his counter
Let's say you CAN'T get throw a jab without getting countered, well then…COUNTER HIS COUNTER!
Your opponent most likely has 3 possible counters to your jab…look for them:
the counter jab
the counter right
the counter hook
Whichever one he uses, hopefully you know the counter for that punch, right? And if you're clever, you could even fake your jab, and then counter his counter. I'll let you do the heavy thinking from here on out.
Let him throw first
Seriously, don't always be the first to attack. You can still be aggressive…by putting constant pressure on him. Follow him around the ring, lots of feints, lots of aggressive footwork. But then don't throw anything until he makes the first move. Pressure him enough and he'll eventually put something out there for you.
Changing Your Jab Strategy
I think a big problem with throwing the jab has to do with the mindset behind using the jab that is taught to all fighters. Many fighters if not virtually all of them are taught the jab as being the most important weapon and sets up all their other punches. And that they need to work on their jab more. And that they need to throw more jabs.
And while I don't disagree with these common teachings, I disagree with the results that they create. Fighters start to think in terms of quantity instead of quality. They try to throw more jabs simply because "jabs are the most important weapon". Indeed, they throw faster and harder jabs, but without purpose and without truly understanding WHY the jab is important, and WHAT makes the jab useful.
I remember Andre Ward once saying, "Nowadays everyone is taught that everything comes off the jab. But that's not how I was taught. I was taught everything comes off the feint."
And I agree so much with what he said. I, too, was taught to jab first and foremost: JAB NO MATTER WHAT! Always jab. Jab jab jab. Everything jab. Jab until you die!
Ultimately, I think it's not so much the impact that makes the jab deadly but the threat of a fighter establishing his range, making contact, and landing harder punches that makes the jab deadly. This "THREAT" is what makes your jab harder (or scarier) to counter. Every time you throw the jab…just remember to threaten with more than just speed and power.
The threat of the jab is perhaps
more dangerous than the jab itself.