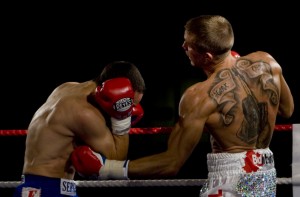 Q: Whats the best way to improve the amount of damage you can sustain to the body? – Ciaran
A: Assuming you missed your opportunity to block and you're forced to take a shot to the body, there are a few things you can do to reduce the damage caused:
You should breathe out quickly and flex your stomach and core at the very same time in one quick movement. It should be as if you're trying to bounce the body punch off with a quick breath and quick flex. This tactic will form a temporary shell which can stop your opponent's fist from penetrating deep into your body and cause internal bruising and lasting pain.
At the same time, it helps if you rotate your body in the opposite direction of the punch. If you're taking a left hook, pivot your upper body counter-clockwise.
If you're taking a right hook, pivot your upper body clockwise. If you're taking a punch straight on, you can quickly dip your head forward as your throw your hip back–this will look as if you're temporary ducking down and sticking your butt out. If you time this right, your opponent will hit air or it will take a lot of steam off the punch. Miguel Cotto does this a lot. I've also seen Chad Dawson jump straight back and lift his hands when his opponents go for the body shot.
As for training yourself to take body shots, you have to work on timing your explosive shell. Many fighters will lie down on the floor while their trainers drop a medicine ball straight down on their stomach. Right as the ball lands, you have to breathe out and flex your "shell" at the right time. Start with a 5lb and then 10, and then up to 25lbs once you get the hang of it.
Train well and prepare for body shots. They are very painful. A head knockout may leave you unconscious in dreamland but A bodyshot knockout leaves you sprawled on the canvas in total pain. I hope this helps. – Johnny