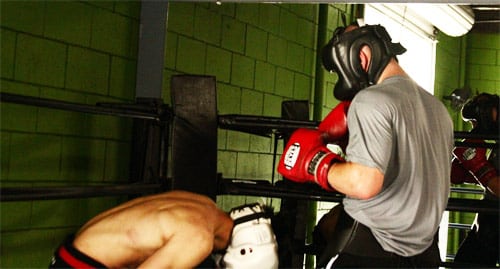 Fighting a guy that's constantly ducking under can be the most annoying thing ever.
First off, it's annoying just to miss. But to miss again and again because some bull keeps running his head into your balls is frustrating. Some of them are using every chance to duck out of the fight and clinch you around the waist. Others are constantly positioning themselves in a way that makes it hard for you to hit. It feels kind of dirty and it's actually against the rules to duck that low.
The most difficult is when it's a trickster with tons of slick head movement and pinpoint counters (think Pernell Whitaker). The scariest is when it's a muscular stocky guy who creeps in with hard counters (think Mike Tyson).
I've fought all kinds of duckers before and to be honest, I've even played the part myself. 🙂 I've figured out a few tactics that have worked well for me over the years and definitely dissuaded them from doing it as frequently.
Here's how you stop the ducker…
WHAT NOT to do against DUCKERS
Don't try to hit his head!
Honestly, it's one of the oldest tricks in a book. It's very often a setup. You're likely to miss (look foolish) and get tired or even worse, get countered very badly. Anytime you see his head go under or dip low, try to resist the urge to fire at the obvious target. There's a very good chance he'll pop right up and come back with a hard counter.
Beware the angle of the level change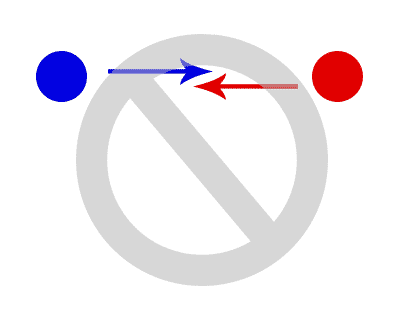 The ducker is not trying to fight you on the same angle.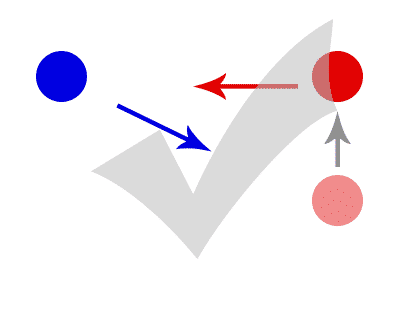 The ducker is trying to bait you to throw downwards so he can go over the top.
WHAT to do against DUCKERS
Control his head
This move works best when the opponent's head is low AND he's farther away from you and/or trying to sneak into range with his head low. You can expect that he's trying to bait you into punching first so that he can slip and counter over the top.
Stick out your front glove and put it over his head and pull it down or guide it away from you. It can be your hand or the forearm part of your arm. As long as his head is stuck down there, he can't get up to throw punches at you. Just think that for a fighter to throw a punch at you, he kind of has to swing his head at you. So if you can prevent his head from swinging itself at you, you'll probably be able to prevent him from punching you as well.
Control his head
and you can control his punches.
Lean on him
This move works best when your opponent is really close to you and trying to clinch or trying to wiggle around under you for whatever reason. It also happens often when you're attacking him aggressively and instead of engaging, he's trying to escape by going under.
All you have to do is lean your torso on top of his head or back (depending on how low and how bent over he is) and let the weight of your body tire him out. You'll probably be able to get away with this for a few seconds before the ref breaks you up. It also helps not to hold him with your arms, and even better—to throw little punches at him while doing this so it looks like you're attacking him instead of engaging in the clinch.
Lean on your opponent
when he bends over.
Throw body shots
Quite often the best thing when he bends over is to throw uppercuts and hooks at his BODY (not his head). This is a great idea because he's expecting you to aim at the head (which sets up his counter) but instead you aim at his body. Throwing body shots will also pin his arms because he's forced to defend himself and make it less likely that he'll throw counters in return.
You don't have to be so anxious. He's the one that's stuck in a position that takes longer to punch from. Take your time and aim a hard uppercut at his solar plexus or reach a hook around to his body on the far side where he's not expecting one.
Aim for the constant ducker's body
instead of his head.
Throw a flurry
Here's your chance to throw those quick flurries and shoeshine combinations to score some points. Let out a bunch of pity pat shots at his head, shoulders, body, wherever you can aim at. You might not do any damage but you can score some points, put some pressure on him and take push the pace a little. Just make sure you're ready to lean out of the way when he comes up with a counter, and then you counter him!
Keep your hands busy
while he's busy moving around.
Pivot to the Side
I think this is one of the best maneuvers against a constant ducker and one that's not as often utilized. It works best when you are closer to your opponent but if you're further away, you can use lateral movement instead.
So here's how it works. The moment you see an opponent duck down or bend over, you just pivot around him and that easily nullifies whatever counter he had for you and also leaves him vulnerable to punches and also getting pushed off balance. Try having a friend bend over and see if he can pivot or use footwork while he's down there.
See how hard it is to have any footwork when your body is scrunched down there? That's the thing: opponents that are constantly ducking don't have much footwork maneuverability. They can move their upper body up and down fast and APPEAR to be mobile, but their feet can't really go anywhere. So all you have to do is cut around them, and then throw punches, lean on them, or push them off balance from their vulnerable position.
You also don't always have to wait until your opponent is totally bent over or ducking. Even guys that are constantly slipping will sometimes slip low enough that it takes away their footwork mobility. Pivot around them and stick them with your jab while they're busy trying to be cute with the slipping.
Your opponent has no footwork when he bends down.
The Different Kinds of Duckers
There are so many kinds of duckers out there ranging from the street-thug level to the dangerous stalker level that you have to be careful. I'll cover some of the more general styles of duckers I've faced and ways that I've approached them.
Cheap Newbies
They don't know how to slip and fight with proper technique. They don't care about the official amateur boxing rules that don't allow you to dip your head below the waist. They duck down a lot and sometimes even throw shots below your belt line. Keep using your footwork, walking or pivoting away, and you'll be alright.
If you want to stay close: lots of head holding and leaning on them should wear them out. Lots of body shots will scare them from going down there. If you want to, sure, try some uppercuts at the head while they lean down right into it.
Fight-stallers
I call them the fightstallers because they're using all the ducking maneuvers to avoid the fight. Maybe they're hurt or tired or intimidated but for whatever reason, they're doing all they can to not engage. They're also like to clinch a lot as well. It also feels like every combo they throw ends with a duck or a clinch or some other annoying evasive tactic.
As annoying as these guys are to fight, the good news is you're easily winning the fight if you find yourself in this situation. They've already lost their will to engage and pretty much resorted to only accomplishing nothing other than to survive to the final bell. They probably aren't going to commit to any punches and any tactics they have will only be to potshot and run away from you some more.
But let's say you ARE annoyed and just want to end it already. Here are some things you can do to avoid the fight from getting stalled. Use lots of CLEVER footwork. Every time they lunge in on you, take a pivot whether swinging the back foot around or pulling the front foot back, and watch them fall through the air. Avoid letting them make any contact on you with their arms or their body and you'll see that they tire out faster when they have nothing to lean on.
There's a good chance these guys won't even make eye contact with you so you have all the time in the world to set up your knockout punches. This lack of eye contact also makes it easy for you to throw your punches up and down and land body punches and sneak your shots through the holes in their defense. Keep in mind that fightstallers are usually looking to avoid only the heavier shots and not so much at the smaller touching shots. So you'll probably be able to jab them to death pretty easily. Just be patient instead of getting too bloodthirsty looking for the killer blow. Use lots of flurries and throw your hard punches only when you're absolutely sure they're going to land.
Aggressive pressure fighters
These guys are probably the most annoying and most dangerous duckers. There's something about the way their head, neck, and shoulders are built that allows them to duck down easily. And it feels like every punch you throw at them smoothly slides off their shoulders and back. They kind of lurk in on you from under all your punches, kind of like a shark racing at you just under the surface. It's scary because you miss a lot and eat a lot of counter shots from these guys.
First off…lots of head control! You can't let them swim their head all the way into range for free but at the same time you shouldn't make the mistake of aiming punches at their head. Stick out a glove to control their head and then aim your shots at the body. Lots of flurries can also do the trick. If you want to start hitting them, aim for the chest and then work your way up towards the head as you get more accurate.
Tricksters
These guys can be the most skilled and most difficult to fight. The tricksters are the guys who love hovering around right in front of you. Some of them will even drop their hands a little bit to bait you into going for the head. They've got incredible head movement and strong understanding of their opponent's movement instincts. They know how to avoid entire combinations and especially when they're in their groove, they can be the most difficult opponents to hit. You'll miss and miss and miss and eat counter after counter. Even if they don't counter you, you can still get really frustrated and thrown off your game…which would give them control of the fight.
There are so many ways to approach a trickster (or slickster). It really depends on how they go about it. Some of them are more herky-jerky and use awkward movements to break your rhythm and make you stop and go and second guess yourself. Some of them are more of the smooth, ultra-slick type, where they know how to slip and slide around everything that you throw making you feel like you're the awkward one.
Any time that you feel it's a setup, don't go straight for the punch, step away. Or step around. Make them reset and come back into you again. Turn it into a moving fight where they can't just stand in front of you and be pretty. Stick the jab and move, keep pivoting and turning them. Make them work to keep up with you. Don't come to them, make them come to you. If they're going to counter you, make them lunge and put themselves at risk for the counter, rather than to make it easy for them by you always coming into to their space.
Keep your jab in their face or in their chest (if their head moves too much). Don't always be so reactionary. Apply some tricks of your own. Set up your own tricks instead of always trying to solve theirs. Set your own traps! Don't get tentative because you missed wildly a few times. Stay busy and stay aggressive. The more passive you get, the more time and traps they get to setup and the more defensive you get which only further shuts down your offensive opportunities.
Be comfortable with landing only one punch at a time. It's not ideal but be ok with it. You might land a good hook or a good counter cross here and there. Be ready to fight it out one or two punches at a time. It might be an awkward potshot fight. Don't try so hard to make it a combo-fight where you land 3, 4, 5 punches at a time. With these guys, you are most vulnerable when you try to establish a rhythm and they use it to time you with hard counters.