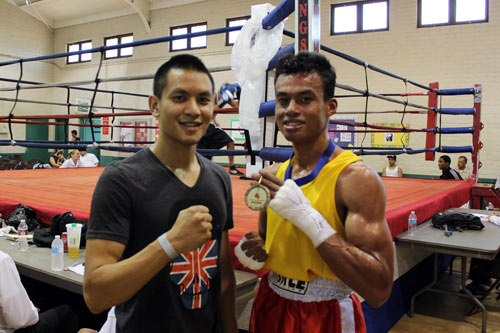 I walked into the gym the other day and put on the focus mitts first. I warmed up the fighters, one after another, and then followed them around yelling out adjustments while they trained and sparred. I didn't notice it then but this was my first time in the gym without wrapping up.
In fact, the mitts stayed on my hands the whole time. It wasn't until the session ended when I realized…"Oh shit, I'm a boxing trainer now."
A part of me died inside that day. "I'm still too young! I can still fight!" I cried to myself.
I always thought of myself as a fighter. I never fantasized about being a trainer, not even with the growth of ExpertBoxing. It was just something that happened. Somewhere along the line, I was thrust into a position of authority. Not because I was the most knowledgeable but because people believed in me.
Here's how I did it…
1. Be QUALIFIED
Make sure you know your shit! You're responsible for somebody else's health. Fighting is a serious business so you have to be really sure and damn confident about what you know or what you think you know. This is where it helps to have some ring experience of your own. If you don't, then you need to learn from somebody who has! There's no requirement saying you need X number of fights to be a trainer but you must understand what your fighter is going through.
Experience is not guaranteed through fights, repetition, or even time,
it is achieved by striving for constant improvement.
Keep learning and developing your own skills. Ask for help when you need it. And don't let your ego get in the way of gaining knowledge and improving the quality of your instruction. GET A SECOND OPINION. It is YOUR JOB to know the answer to everything. And if you don't, then you better be able to get a hold of someone who can.
How do you THROW a right hand?
How do you BLOCK a right hand?
How do you beat a faster opponent?
How do you stop a nose-bleed?
How much Vaseline do you put on a fighter's face?
What do you say to a nervous fighter?
While the questions are endless, your knowledge is not. A true teacher never stops learning!
2. Be POSITIVE
Come into the gym excited to train. You're in this to help others. You've been in the game longer than the kids. You know the sport better. This is YOUR SPORT, so you have to share the love. Bring the energy, enthusiasm and motivation. You've got to be more energetic than the fighters. It's going to be YOUR ENERGY that motivates the fighters. Don't expect anybody to come into your gym and give you a gift–nobody owes you anything. They give you their time, and you show them the love (experience, energy, knowledge).
The worst coaches are the ones with a chip on their shoulder. Alcoholic problems, money problems, can't hold a stable relationship. The guys that get no respect outside the gym…don't have a life other than yelling at kids to make themselves feel powerful. You're not a god, you're a fight coach. The kids don't work for you, YOU WORK FOR THEM. Get that in to your head. You're partly responsible for their future. So you need to make the most positive contribution to their lives with the time that you have with them.
The fighter is the star,
not the trainer.
It's not about you anymore! Maybe you used to be a champion but right now you're not the star anymore, your fighter is. Those kids owe you nothing, and neither does anybody else. Selfish coaches are among the biggest parasites in our sport. A bunch of insecure people that turn down fighters because they don't have the skills to improve the individual!
Be PERSONAL-accommodate the individual
It's more than just coaching every fighter differently. It's about accepting the fighter and accepting his or her results. Some fighters are faster. Some fighters have more power. Some fighters have more stamina. Some fighters will win more than others. Success means different things to different people. For some, success is a gold medal. For others, it's surviving one whole fight. For many, it's losing weight and looking sexy. Whatever the individual's goal is, you have to respect that. It is THEIR GOAL, not yours.
Success means different things to different people.
You have to accept the fact that no matter how hard you or your fighter tries, all you can ask for is his or her best. As long as you have that, you AND your fighter are a sucess, nothing else matters. The best coach & fighter relationship is one where both have made great achievements together. You have to be proud of your fighter. All of his or her wins and losses. The great times you spent together in and out of the ring. The chats on facebook. The friendship and the relationship as a whole. That means more than any cheap piece of metal on a ribbon. I remember a time when I was fighting to make my trainer proud. I would fight any opponent to show him how much I learned from him. There was nothing I wouldn't do for him, and nothing he wouldn't do for me.
3. Be a MOTIVATOR
To clarify: I mean be a motivator, not an energy-drainer.
Try to energize your fighter instead of burning him out. People need their energy for work/school/life outside of boxing. You can't take that. But what you CAN do is motivate your fighter the best you can. Send him inspiring messages so that he can aim a little higher than yesterday. Even better, you can suggest he follow Motivation District and similar online forums that can boost him up. A motivated person will have ENDLESS energy, in AND out of the gym. Motivation is what makes someone show up at the gym 15 minutes early and leave the gym with a smile for the rest of the day.
Don't force your fighters to train. Saying "JUST 10 MORE!" isn't going to motivate anyone. You gotta say, "Champions can do 10, how many do you got?" And when your fighter proudly squeezes out 20, you gotta yell, "OH 20?! Now you're POUND-4-POUND!" A motivating coach makes the fighter challenge himself. The energy-draining coach makes the fighter tired, and give excuses, and not show up for a week because he's scared to get beat up. Do you understand the difference?
Next time you post a hard workout on the wall, label it the "Little Girl's Boxing Workout". 😉
Give the Joy of Boxing
Motivation is what makes something fun. BOXING'S GOT TO BE FUN! I know it's a tough sport and all that but it's got to be fun first, and then education *COUGH* PAIN! *COUGH* second. Throwing punches on the mitts is fun! Learning new things is fun! Being forced to exercise through cramps is NOT fun. taking a beating by a larger or more skilled opponent is NOT fun. make sure you know the difference between challenging fun and unnecessary pain.
Someone with passion for boxing will have endless energy. I love boxing so much, it's impossible to workout until I'm tired. When my arms get tired, I work my legs. when my legs get tired, I work my back. when my back is tired, I watch the other guys spar. When the gym closes, I go home and watch Youtube videos. NOBODY CAN STOP ME because that's how much I love boxing!
Develop the Fighter's Motivation
A great motivator is not the guy that yells, "CMON BILLY! DONT BE A SISSY! GIVE ONE MORE REP! C'MON JUST ONE MORE REP! YOU CAN DO IT, YOU BASTARD!"
A great motivator is that old man that comes up to you and says, "You know what, Johnny? With a right hand like that, you could be champion one day." He said it calmly and then walked away and went back to his business.
…but it was powerful.
I never forgot that old man and what he said. I started wondering, "What if?" I started daydreaming in the middle of class and having fantasies of fighting giant dragons in the ring. And winning the world heavyweight championship at 135lbs. I thought I was a boxing god! When I was alone in the showers, I announced myself the "NEW HEAVYWEIGHT CHAMPION OF THE WORLD!" a thousand times. I walked into the gym everyday as a champion making his ring entrance.
…and do you know how I trained? like a F**KEN monster. And all because some old man planted a silly idea in my head.
Great trainers don't make you exercise,
they make you dream.
Motivation starts in the mind. Give your fighter's mind a rocket and let him fly to the stars. You keep him dreaming, give him a little guidance, and watch him do the rest.
Protection the Fighter's Motivation
Long-term motivation leads to long-term success.
Once you have someone's motivation, you have to protect it! This also includes protecting the fighter. This is the absolute key to long-term success.
So many kids these days go to the gym and train themselves to death that it's not even fun anymore. They put in 4-5 hours just so they can feel productive and good about themselves. They work just enough to feel like they put in the work and deserve a win. Some fighters will not stop sparring until they get beaten up. It's your job to prevent the most motivated athletes from working themselves to death.
The moment, "fun" becomes work,
it's only a matter of time before you quit.
Deep inside everyone is a quitter. It's what makes us human and it's what makes boxing beautiful. Having the ability to quit anytime we like is why we respect the fighters that push themselves the farthest. Sometimes it's physical and sometimes it's mental. As a trainer, it's your job to protect the fighter from himself. The fighter's worst enemy is not his over-sized aggresive sparring partner, it's his own ego.
When a fighter is feeling tired, tell him, "You worked hard that's why you're so tired. Good work, you deserve some rest!" When a fighter just lost a fight, say "You're not ready for that level yet but now we know what to work on. Keep training!" Everytime a fighter doubts himself, you need to step in and say something!
Sustaining the Excitement
Have you ever seen a kid in the disneyland? He's waited all month long to go to disneyland, and when he finally gets there, he knows he's living on borrowed time. He'll run from ride to ride, knowing his day won't last. He never sits down, and he never waits for someone to tell him what to do next. He's EXCITED TO BE THERE.
Your gym has to be like Disneyland. And the key is to LIMIT the fighter's time!
The moment your fighter comes in the door, you have to gauge how much enthusiasm he has for the day. And then cut him short! If he's got 3 hours of energy, you cut him off at two and a half. If he wants to spar 12 rounds, you give him 8 and then kick him out. Let him save that excitement for the next day. Make him wait for the opportunity to train. Make him daydream all day in class about going to the gym. It doesn't matter if he works out for 3 hours or 30 minutes as long as he's excited.
The best trainers are motivators.
The trainer's job is to put you on the right path, and give you the tools you need to finish it. Because the truth is nobody can do anything for you. All the best coaches in the world cannot get in the ring with you. Fighting is something you have to do yourself. And the best trainers are the ones that make you realize you can do it!
The biggest failure of any trainer would be to let a fighter train without believing in himself. Without that self-belief the fighter is practically guaranteed for failure. And it has [nothing] to do with the techniques or the difficulty of the sport. It has to do with self-esteem. And all it takes is for you to say the right thing at the right time! Can you imagine how different your boxing career might have turned out if your first trainer said, "WOW! Your power is almost like Mike Tyson!" on the very first day of training? It really changes the individual's future outlook.
Now I'm not saying you should lie to fighters or fluff up their ego. I'm saying for you to believe in yourself and in your fighters. The magic is in YOUR ABILITY and YOUR CONFIDENCE in knowing that you have what it takes to guide fighters to championships. Because if you're really that amazing of a trainer, well then you know you can bring out the best in everyone.
Fighting is not about being tough,
it's about giving the best that you can.
Being a motivator is not about making your fighters tough, it's about making them give their best. Your fighters have to know that if they try their best, that it won't be a waste. That all the blood, sweat, and tears wasn't for nothing. Every fighter wants to know that at the end of the day, he achieved something great. And it's your job to let him know that he's worth it, and that he made did it. You don't want a fighter that's afraid of losing or getting hurt; you want one that's excited to compete. Make your fighter feel like he's the best, and you'll be the best trainer that ever was.
To all my trainers: thank you for being the best trainers I could have ever had. See you in the gym!