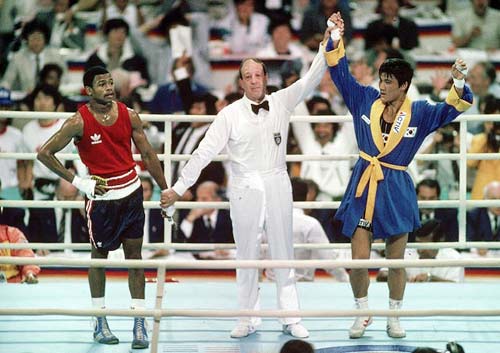 I was cornering for one of my fighters last weekend when I witnessed yet another robbery on the amateur circuit. For those who've never watched an amateur fight live except for the Olympics on TV, I have something to break to you: robberies happen ALL THE TIME IN AMATEUR BOXING!
It's inevitable when boxing is such a subjective sport full of bias. Judges are not fighters. They can only judge by what they see, not what they feel. And you can't win a fight without looking good to the judges.
It's heartbreaking to lose when everyone saw that you won. Here are some things you can show the judges to avoid a bad decision!
1) Throw more punches
Amateur boxing is judged on a point-system. The guy who throws more punches will usually score more points in the eyes of judges. Even if you're not really landing anything, it can look good to the judges. It shows aggression and if you're the one providing all the action, you will be the one they will watch. Keep moving your hands and who knows, you might have earned some points even when nothing landed.
On the other hand, not throwing punches means you have less opportunity to score points. And your passiveness may contribute to an even busier opponent who will benefit from having the busier hands. Anyway, the rule is: keep throwing punches! At the very least, try to throw more than your opponent or at least make it appear that way.
2) Condition your legs
One of the best ways to get robbed is failing to condition your legs for a long fight. I've seen so many fighters tire in the 3rd round to the point where they can barely hold themselves up. Even blocked punches send them flying and they fall down even when they're not actually getting hit. Unfortunately, falling around the ring can cause a "standing 8-count" against you even when it's from your own fatigue instead of your opponent's punch.
It also helps to do some balance drills so you don't fall all over the place. Tall, lanky fighters are especially prone to getting pushed around—and it looks really bad. (Looks like you're getting bullied.) Strengthen those legs so you can keep yourself up. The judges might score points for your opponent if you're falling even time he punches you even if they're blocked.
3) Keep your back off the ropes
Here's another classic mistake! Don't lay on the ropes, don't slide along them, don't even stand by them. It looks bad and it allows aggressive opponents to trap you along the ropes and throw a bunch of free punches. Even if none of them land, some of these blocked punches may score points. Unless you have some highly strategic reason for being all the ropes, it's best to hold your ground at the center of the ring. If you don't know why you keep ending up on the ropes, try moving laterally instead of backwards.
4) Stay out of the corner
This is similar to staying off the ropes. Do not get trapped in the corner. Your opponent gets to throw free punches AND even if you do manage to land your own, it's hard for judges to see if you're trapped under your opponent. It's hard to throw wide punches from the corner (because of the ropes surrounding you) and so all you can throw is straights and uppercuts, but you won't get credit for these if your opponent is covering the judges' view of you.
5) Counter back if you get hit
There are so many reasons for this. If you don't fire back, it makes you look passive and leaves the image of your opponent landing punches as the last impression in the judges' minds. You will get a standing eight count against you if you take too many unanswered punches, even if you're fine! I think this is the most shocking discovery for novice amateurs. All you did was block for 5 seconds straight just like you always did in sparring but all of the sudden, the referee jumps in and starts counting even when it's clear you're not hurt at all.
Amateur boxing is all about safety, they will not let you take unanswered punches. If you do it enough, they may even stop the fight on you. So please, throw some punches and it's best if you counter back immediately so that it always looks like an even fight to the judges. Try to be the guy who always gets the last shot.
6) Don't let your head whip back
Sometimes, the only way you can tell that a guy got hit cleanly is how his head snapped back after getting hit. Especially if you're a long-necked fighter, I would recommend for you to strengthen that neck. It wouldn't hurt to pay attention to straight punches so you don't get your head popped every time your opponent lands a jab.
7) Act confident
Well, the rule should be more like: "BE confident". You have to look like a confident fighter, not like a frustrated fighter, not like a scared fighter, not like a hurt fighter! When you walk back to your corner, show positive body language. I remember always slumping back to my corner with my head down when I didn't do well a certain round. My trainer made sure we acted like confident winners all the time in the gym. No dragging our feet around like a loser and especially no looking down at the ground when we returned to our corners. "KEEP YOUR HEAD UP!" he would yell.
Avoiding Judges Bias
The biggest lesson in amateur boxing:
DON'T GET TIRED!
The biggest cause for getting robbed is that you got tired. You might be the better fighter and landing the more effective punches but it doesn't look good if you're wobbling all over the place and hardly throwing anything back. Getting tired is what makes your body flop even when you didn't get hurt. Getting tired keeps you from throwing punches and looking dominant. Getting tired is how opponents come from behind and dominate the final rounds. Whether the other guy actually landed more punches or not, you shouldn't let the fight finish on that note.
Ultimately, you have to understand that boxing is scored subjectively. Yes, winning is supposed to be objectively based on points earned by landed punches but it's not that simple. Different judges will score clean punches differently. You'll have an even harder time if you're fighting outside of your hometown. Many USA boxing officials are volunteers from the community which means they will have some bias. They might not be consciously trying to work against you but they could be spending more time watching your opponent because he's familiar to them.
Whatever the case may be, you have to work hard to establish your superior skill and effective aggression. When it comes to a close fight, this will make the difference. I hated seeing my friends get robbed. It's the most unfair thing in the world to train so hard, dominate your opponent in front of the people, and still come out feeling like a loser.
Have you ever been robbed before? How did it feel? And what would you have done differently?