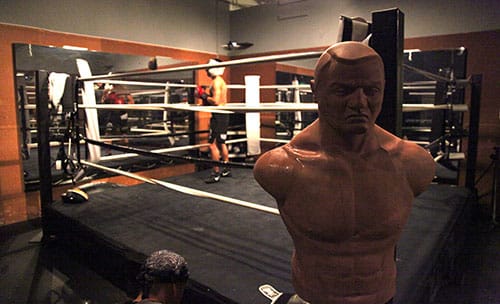 How many hours a day should a fighter spend in the gym?
Are you training enough?
Are you training too little?
How long do other fighters train for?
How long is YOUR OPPONENT training for?
Knowing the right length of fight training can make the difference between over-trained for your fight vs being in perfect shape.
Q: How long should a fighter train for?
A: Generally, I would say competing fighters spend about 3-5 hours working out 5 times a week.
The time is usually broken down to something like this:
roadwork (30-60 minutes)
warm-up (30 minutes)
bagwork (30-60 minutes)
focus mitts and/or skillwork, drills (30 minutes)
sparring (30 minutes)
strength & conditioning (60 minutes)
warm-down and crunches (30 minutes)
Of course, it doesn't always happen in this order as roadwork can be done at the beginning or end of the day. And bagwork and skill work can come before or after sparring depending on when the sparring partners are ready. And it's not a problem at all to deviate from this routine or skip certain aspects on certain days.
You only have about an hour of "MAXIMUM PERFORMANCE"
Now you have to keep in mind that the body can only sustain HIGH INTENSITY for so long before the workout becomes "endurance work". Which means you have to save the best of yourself for the most important part of the day. This might be sparring (if it's a sparring day) or drills and skillwork or for strength & conditioning. It's up to you. But you can't expect to deliver 6 rounds of hard sparring AND record-breaking sets of strength & conditioning.
You should train to the limits of your body
It doesn't matter what the other guys are doing. At the end of the day, it is your body that determines how much you can work out. If you're not at that level yet, don't try and force yourself to the point of over-training or injury. Sticking within your range will allow you to improve at the fastest rate. Doing extra work does nothing. It's like eating…once you're already full, the extra food does nothing for you.
Train with others
I feel like the "how long should you train for" question is often asked by people who don't train in a gym. If you trained in a gym, you can see that everyone more or less gets tired around the same time. There's only so much the human body can do. The routines are perfectly set up to prepare a whole team, not an individual. If you want to train better…start training with a team. Training with others helps you find your workout rhythm faster and last longer because of everyone else's energy around you.
You'll also have more confidence this way because you can see that you're doing the right exercises and getting the right feedback that you need to improve faster. Training alone only works if you've already learned how to work out from training with others OR you spent years figuring out the right training routine for you.