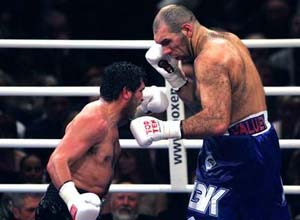 Q: How do I beat a taller boxer and overcome his height and reach advantage? – Liam
A: You should beat a tall boxer the same way you would beat a short boxer – by outboxing him.
You overcome his height and reach by fighting inside his punching range where your punches can reach him. His height & reach won't be an advantage if you're on the inside.
I'll address 3 tips when fighting tall boxers:
1) Getting inside without taking punishment.
Notice how I underlined "without taking punishment". There are too many new guys to boxing that think the tall boxer's weakness is you running straight in and forcing a brawl on the inside. In fact, this is hardly the case. They already expected you would do this. Taller boxers know you can't reach them, they've been practicing all sorts of counter-punches to keep you from getting inside! So if you just try running straight in against a taller boxer, you'll probably get hit pretty hard; and probably at a range where you can't return fire.
The easiest way to come inside is by slipping his jab and using feints. You can't just walk into him, you have to wait until he throws a jab and then move past the jab. Don't waste your time trying to slip and duck the jab. All that body movement wastes energy and it's unlikely that you'll be able to move your body faster than he moves his arm. What you want to do is pull your head down or to the side slightly and then focus on moving STRAIGHT into him with a counter punch of your own.
You can also get inside by chasing down his punches. Usually, taller guys have a slow recovery. Wait for him to throw a jab and then immediately counter. If you throw a right hand right after he jabs, your right hand will get to his face before his jab hand can recover to defend.
Of course, a lot of tall guys are more defensive and will wait all day to counter you from far away. To get them to throw, you should fake a lot of jabs and then counter them immediately after they try and block your jab or throw their own counter. Use lots of fakes. Hand fakes, head fakes, foot fakes, everything. It'll tire them out to have to keep re-adjusting their body.
2) Overcoming his height and reach advantage by using your own advantages.  
If you have better handspeed, use it. When he throws two punches, you throw five. If he's got longer arms, he's going to tire out and not be able to throw as many punches as you do. Long lanky arms usually means the arm will get more tired when throw punches. It's not common for long guys to be volume punchers so you can probably outpunch them with sheer volume. But what IF he's throwing more punches? (Paul Williams)… well to that, I say he's probably not throwing very hard punches…which takes us to my next tip.
3) Throw harder punches.
A taller guy of equal weight with you probably has less muscle on his body and therefore less power. Since he's using his height, you should probably use your muscle and start throwing harder punches. Aim them everywhere! My coach use to tell me to aim at the mid-section for tall guys. His reasoning was always, "When you cut down a tree, you don't start at the top." The same applies for boxing. Want to take down a tall guy? Aim at his abs and soon enough he should crumble.
FULL GUIDE TO FIGHTING TALLER BOXERS – HERE
Give it a try and let me know what worked best for you. Those tall guys give me problems too. Good luck with those tall guys!