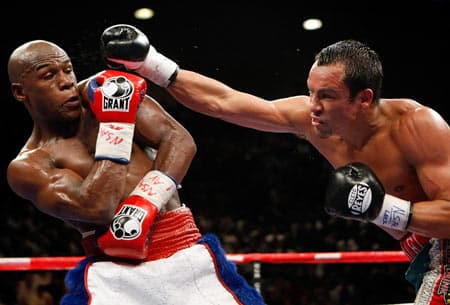 Somebody asked me a great question the other day. He said:
Johnny, how do you not get hit?
…to which I laughed and said, "FEAR!"
You have to be afraid of getting hit. It's not enough to be "defensively-minded" (whatever that means) and watching Floyd Mayweather videos. You have to be genuinely afraid of your opponent's punch. You've got to respect his power and respect what he can do.
Now I can think of 2 reasons why most fighters don't respect their opponent's power…
1) You've never been hit.
Yeah, I said it. You might have been punched or touched a few times, but you've never met a guy who could really crack you. If you aren't defensively minded, you've never been tested buddy. I dare you to go out there and find someone who can crack. I'm talking about someone who can hit you so hard you consider quitting boxing. Trust, he's out there somewhere…maybe at a local tournament or even just working on the heavy bag right next to you. Take one punch, JUST ONE PUNCH from somebody who can bang. I promise, it'll change the way you prioritize defense FOREVER.
(It's like getting your first speeding ticket. Right after the cop pulls away, you swear to yourself, "NEVER AGAIN!")
Every boxer, even pro's, even the greats..(Ali, Mayweather, Tyson)… all of them can recall the hardest they've ever been hit in their life. Everybody remembers that one time they really got shook. They all have that one sparring partner that scared them. If you haven't met yours yet, I can understand why you never took defense seriously.
2) You can't hit for beans.
Maybe the reason you don't respect anybody else's power is because yours isn't that good anyway. The day I learned how to really throw a punch, I was like HOLY F**K, I never want to get hit again. I'll put it this way, I was actually afraid of hitting my sparring partners, because I didn't want to take what I was able to dish out. Yes…the human body is SO capable of delivering crippling power. I would say most boxers are hitting at less than half of their full potential.
The day you learn how to really punch, you will immediately see the need to improve your defense for harder punches. You start respecting your opponents. You start treating everyone like they're hard punchers because you know what you're capable of.
ARE YOU SCARED YET?
Fear is your opportunity to grow.
Good. The moment you sense fear is the moment you have an opportunity to grow and improve yourself. I promise that you will face fear in every important moment of your life. Fear is the fork in the road where you can take the easier option and quit…or you can face fear, and use it to make you a better fighter, a better person, better everything.
I saw fighters that trained for 2-3 years, finally got hit for the first time in their lives and just quit boxing. No excuses, nothing. They just never came back. When I finally caught up with them, they said, "Oh, I got tired of training. I'm too busy doing something else. I don't think fighting's for me after all."
But then I also saw fighters that said, "F**K THAT! I'm never taking those shots again. I'm gonna work on my defense because I never want to get hit like that again." They went to the gym and trained 50 times harder on defense because they were genuinely scared of getting hurt. I'm not saying you shouldn't ever quit boxing. I'm saying you shouldn't stop doing something you love because it scared you.
I remember a dozen times when I told people I was a boxer, and they immediately said, "I could never do that. I don't like getting hit." And I always thought to myself, "What a damn shame, you could have been a great boxer."
The moment a fighter admits to me he's afraid of something, I literally jump off my chair and yell, "GREAT! THIS IS AN OPPORTUNITY FOR MAJOR IMPROVEMENT!" I wish we all had the power of fear, but unfortunately some people prefer to be robots. Ignoring their emotions and refusing to be afraid. Some fighters are even too strong or too macho for their own good. So next time you step into that gym, be afraid…be VERY AFRAID!
(Happy Halloween, everyone.)