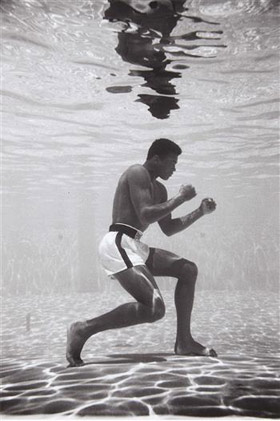 Learn how to drown your opponent. Take him into deep water and wear him out with this passive aggressive fighting style used by great boxers such as Oscar De La Hoya, Kostya Tszyu, Thomas Hearns, and Vitali Klitschko.
Most boxers refer to "drowning an opponent" as taking an opponent into the later rounds (the "deep water") and beating him with endurance and experience. But I'm actually talking about something else…
When I "drown my opponents", I'm talking about a passive aggressive fighting style I've learned over the years. It's aggressive because you're constantly pressuring your opponents by following them around the ring. It's passive because you're still waiting for them to do something before you throw your counter. The "drowning style" is an intermediate-level boxing skill that allows you to wear out your opponents using little energy. The drowning style is effective against a wide variety of opponents and is not that hard to learn. More importantly, it uses skill to overcome physicality. Everyone should learn the drowning style and have it available when the situation arises.
How Do You Drown An Opponent?
Do you remember splashing helplessly in the deep end of the pool? Perhaps you remember the horrible feeling of fighting against the water with your arms and legs without getting anywhere. No matter how hard you struggled, the water kept holding you down as you became more and more tired. The scariest part about pushing against the water was that there's nothing solid push back. The water is always pushing you but you can never push the water. Drowning in water is a helpless feeling of exhaustion.
*** Now back to boxing! ***
If you want to drown your opponent, you have to become just like that water. You don't have to hit him hard, you just need to constantly touch at him. You are always putting pressure on your opponent but the moment he pushes back, you move back so that he hits air. Keep attacking him and pushing him but be ready to back up and let him hit air the moment he tries to counter. Hitting air will tire your opponent out quickly. He'll get desperate and try even harder to come at you but still, you will give him nothing but air. You don't even block, you just let him miss. The drowning strategy means you will always have the first and last punch. Between your punches is where your opponent attacks but only hits air and tires himself out.
Steps to Drowning Your Opponent
1. Constant Pressure
The very first thing you want to do is put constant pressure on him. Take away his ground, invade his space, and follow him around the ring but keep your distance! The moment he backs up, immediately take that ground. Remember that you are not Mike Tyson on a murderous rampage! (Drowning is a slow painful death.) Creep cautiously towards your opponent as you settle into range. Leave that jabbing arm out a little so you can attack immediately with long jabs. Come forward with long punches. They don't need to be especially hard. If you can't hit his face, keep pushing his shoulder or pawing his glove. You can also throw light punches at his guard. Aim some punches at his chest and push him when he blocks. Keep touching him and you'll make him feel uncomfortable.
2. Stay On The Edge-of-Range
Stay at the perfect distance where your opponents won't reach you but you can still reach them with a quick counter. If you stand too close, you'll get hit by their punches. If you stand too far, they won't be tempted to punch. It takes skill to stay right on the edge-of-range at all times. Being taller or longer makes this easier.
3. Open Your Guard
This is going to sound crazy but yes, you will have to open your guard.
The most important part of drowning an opponent,
is not giving him anything solid to hit.
Now don't drop your hands or throw away your defense! Keep your hands up! When your opponent punches, just split your guard open so their punch hits only air. If they aim for the body, then you just have to lift your arms up. When I split my hands apart, I prepare to throw my overhand right and overhand left hook. Don't drop your hands when you split your guard. This will slow down your counters and their punches could land on top of you. You want to stay on top of your opponent. When you open guard, you may want to lift your hands up so your counter-punches can throw over the top. I would also recommend slipping your head down and to your rear side if you're opening guard at close range..
(I've also seen a lot of guys who will drop the front hand just a little as they lean back out of range. This is fine but do not lean back so much that you fall off balance. HUGE TIP: step back with your back foot if you want to lean back a little.)
Again, do NOT block if you can help it. You want your opponent to hit nothing but air. This is what gets them tired and gives you time to counter. Also if they're hitting air, this means you have more time to counter-punch. Do keep your hands close to your chin in case you do have to block at the last second. It also helps to move your head slightly when you open your guard. Your head should only be moving SLIGHTLY. You are not slipping the punch.
4. Back Up
Opening your guard will not work forever. Your opponent will become desperate at some point and try to reach in with his punches or lunge at you. In this scenario, the best thing to do is take a SMALL STEP backwards. (Quick tip: You don't have to step back with both feet, even just the back foot will do. Then you can just bring the back feet up and you're in punching range again.) DO NOT RUN AWAY! Again, you're pulling yourself out of range but still keeping yourself close to counter-attack quickly. Move a few inches, not even a whole step. (Remember to be like water, constant pressure!)
Backing up will also help you trap a guy in the corner. If he's in the corner, don't block when he punches because he might pivot to safety afterwards. Instead, take a backstep so you can keep him in front of you and pressure him back into the corner again.
5. Counter
The counter-punch is the key to every successful defensive tactic. You've worked hard to get your opponent to commit. After you've made him miss, you should counter him right away! The counter-punch should come immediately after you open guard or after you back up. Typically, your counter-punches will come over the top. It can be an overhand right or high left hook but over the top is best. (Quick tip: It's also easier to counter if you bend your knees beforehand to give your opponent a lower target. The moment he attacks, you slightly unbend your knees, lifting yourself out of the way slightly, and counter over the top.)
You don't have to land a devastating counter. Anything accurate and stops his momentum will do. If you see him getting sloppy, put a hard shot in. If you already have the upper hand, it may be smarter to keep it a jab fest than to draw him into a brawl. As long as you're constantly countering and not giving him any room to sneak in, you're fine. Focus your energy on speed and constant footwork.
6. Repeat
After you land that counter, start taking his ground again! Don't let him stand there and get comfortable. Put the pressure on, touch him, punch him, get him to counter at you. When he counters, open guard or back up, and counter him all over again!
Required Boxing Skills for the Drowning Style
(Not all of these are necessary but it helps! I would encourage everyone to learn this effective style.)
Range Control
This is the single most important skill for the drowning style. You need to know exactly what your opponent's reach is. And move back just enough so that his punch is an inch short. You want to stay as close as possible so that you can move back into range and counter before his guard is up. Don't move back so much that your opponent isn't tempted to punch.
At the same time, you should also know the EXACT length of your own arm. You should be able to look at a target and know exactly how close you need to be to reach it. A more experienced boxer once gave me a great training tip; he told me, "When you throw straight punches at the heavy bag, position yourself so punches land within the last 3 inches of your fully extended arm reach, and NOT BEFORE!" The tip helped tremendously and it wasn't long before I was keeping my opponents at the end of my punches. I kept them as far away as possible and did not give them a single inch.
Fighting Tall
One of the best ways to put pressure on your opponent is utilize your full height and reach. If you're not tall, at least learn how to fight tall. Don't spread your feet too wide or bend down too low. Be ready to move instead of anchoring your feet into the ground.
Footwork
The drowning style will allow you to win the fight on footwork and less on punching. If you have the better trained footwork, you can step in and out as you chase your opponent down. You don't need to have super fast feet. You just need to be able to move in and out inches at a time. It isn't necessary to have explosive footwork to drown an opponent! Push forward slowly, inch backwards quickly, and then go forward again! The footwork is probably the most important and will act as your defense since your front arm isn't always covering up.
Jab
The jab is key to keeping your opponent away. Your jab is usually responsible for landing the first and last shot.As long as you're fighting at a distance, you will need a great jab as your longest weapon. Don't worry so much about power, focus on speed and accuracy. You also shouldn't retract your jab arm so much. I like to leave mine extended halfway out so I can jab out immediately if he comes into range.
Drowning Style Great for Tall Boxers
The drowning style is naturally a great style for taller boxers or guys with longer arms. You don't have to be tall to use the drowning style. As long as you have great control of distance and range, you will be able to drown your opponent. Having a height or reach advantage makes it much easier for you to stay on the edge-of-range, put constant pressure on your opponent, and still be out of his reach. You become a nightmare for any boxer when he realizes he can't hit you. The drowning style can work well for tall boxers but it doesn't mean it's perfect for everyone. If you have great slipping skills or incredible punch endurance, perhaps you want to stay inside more often.
Beating Opponents with the Drowning Style
Shorter Opponents
It's going to be a lot easier to hit and move out of the way against these guys. Land the first punch, back up, land the counter. Do it over and over. There's nothing they can do about it.
Power Opponents
These guys spend a lot of energy punching. Instead of blocking their punches which only encourages them to punch harder, just let them hit air and let their aggression tire themselves out.
Jumpers
These guys love being explosive and closing ground. Because they usually have preset combinations before they jump in, you'll easily break their rhythm if you make them miss their first punch.
Faster Opponents
Their fast hands make it risky for you to stay inside of range. Stepping back might allow you to see countering opportunities. If you can't reach their head, just touch their shoulder or paw at them. They especially hate being touched.
Potshotters
These guys are easy prey. You can easily push them around if they're only fighting one punch at a time. All you have to do is avoid that one punch they have loaded up.
Shell Defense
There will always be the annoying shell type fighters that block forever until they see a counter-punching opportunity. I'm referring to the Arthur Abraham and Joshua Clottey type of fighters. Just keep them on the defensive by stepping back every time they counter. Your constant pressure will keep them from coming out of their shell. Study how Andre Dirrell beat Arthur Abraham to see how the drowning style beats the shell defense.
Tired Opponents
These guys are perfect victims for the drowning style. You don't want to be too aggressive against them and risk getting caught with a big desperation punch. Moving in and out is going to be easy against their tired legs. Keep in mind that tired opponents typically become potshotters which makes them easier to "drown".
Best Examples Of Drowning Styles
Oscar De La Hoya
The young De La Hoya terrorized all his opponents with a drowning pressure style. His amateur record was 223 wins (163 KOs), and only 5 LOSSES! He did it with constant footwork and a great jab. The same skills won him titles in 6 different weight classes in pro's. De La Hoya used his height and great legs to bounce in and out of range as he jabbed his opponents to pieces. He didn't have to slip punches because he was always out of his opponents' range. When they moved in, his counter-jab kept them back!
Kostya Tszyu
Tszyu was a rare specimen possessing both top-level skills and top-level power. Like De La Hoya, he sported an insane amateur record, 259 wins and only 11 losses. In the professional ranks, Tszyu carried knockout power but never felt the need to be careless and try to steamroll his opponents. Instead, he kept them at the edge of his reach and constantly backed up instead of blocking their punches. Watch him fight entire fights with an outstretched left arm, using it to throw pawing jabs or pushing opponents away.
Thomas Hearns
Being a taller guy, it's not hard to see why the drowning style works so well for him. You might notice that Hearns did not have to move his feet much to get out of the way. He only had to lean his upper body back. Hearns also had very long and skinny arms which could be considered fragile. It's not a good idea for him to block punches with his arms and risk bruising them.
Vitali Klitschko
One of the best drowning-style fighters I have ever seen. Watch this 6'7″ heavyweight monster knockout one opponent after another without taking any damage or wasting energy. Even more incredible is how he fights with his hands down and yet never gets hit! He's a heavyweight Houdini when it comes to getting out of the way. It's all footwork! Vitali doesn't throw many punches yet you see fear in all his opponents' eyes. It's his calming stalking presence.
Final Thoughts on the Drowning Style
Drowning opponents has always been a favorite strategy of mine. It's a passive aggressive fighting strategy in that it puts pressure on your opponents without you being aggressive. It doesn't require a lot of punches or a lot of power. As long as you keep yourself from being touched, you won't have to spend much energy blocking, punching, and pushing back at your opponent. It's just your constant pressure and yet always being out of the way when they punch. It's like you're always there but also not there. Your opponent will get annoyed when you keep disappearing everytime they throw a counter. The drowning style is psychologically and physically effective!
Once you get the hang of range control, you can move up to the next level boxing skill which is staying in range and using angles to attack & defend. But that's a different boxing guide for a different day. Until then, go have fun drowning people!