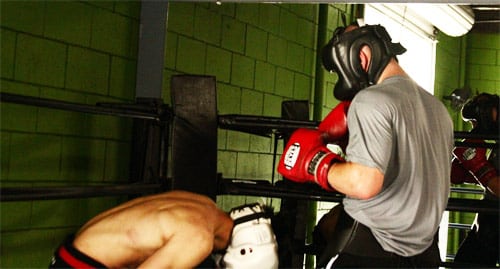 Fighting a guy that's constantly ducking under can be the most annoying thing ever.
First off, it's annoying just to miss. But to miss again and again because some bull keeps running his head into your balls is frustrating. Some of them are using every chance to duck out of the fight and clinch you around the waist. Others are constantly positioning themselves in a way that makes it hard for you to hit. It feels kind of dirty and it's actually against the rules to duck that low.
The most difficult is when it's a trickster with tons of slick head movement and pinpoint counters (think Pernell Whitaker). The scariest is when it's a muscular stocky guy who creeps in with hard counters (think Mike Tyson).
I've fought all kinds of duckers before and to be honest, I've even played the part myself. 🙂 I've figured out a few tactics that have worked well for me over the years and definitely dissuaded them from doing it as frequently.
Here's how you stop the ducker…
Read more… about How to Beat a Constant Ducker