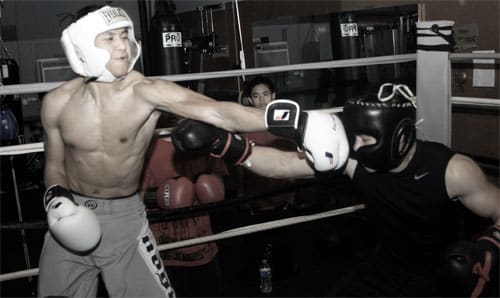 5 deadly punching mistakes that can get you knocked out.
As a beginner, it can be difficult to remember the 50-point checklist of possible mistakes every second of the fight. Technique, strategy, breathing….OH, AND DON'T FORGET TO RELAX! All that is impossible to do when you're worried about getting beat up.
For now, I'll focus on some of the more critical ones that can leave you the most vulnerable. As long as you're careful not to commit these in the ring, you'll probably be alright (assuming you're fighting someone of comparable ability).
Learn how to fix these mistakes (in yourself) or take advantage of them (in others):
1. Exposed Chin During the Jab
Many fighters will somehow expose their chin when throwing the jab. Some do it by lifting their chin during the jab. Some do it by leaning forward and pulling their head in with the jab. Some fighters don't even have their other glove covering their face when they jab (probably because the other glove is preparing to punch). This is often the case for guys that turn their head sideways when they jab. Also a common scenario during southpaw-vs-orthodox match-ups.
EASY COUNTER – Land a counter jab or counter right cross. If he's leaning in, try a left uppercut to snap his head up, and then knocked it off with a follow-up hook or right cross.
SELF DIAGNOSIS – How to check if you have this issue: have a trainer throw a hook every time you jab. You should be close enough to land your jab, but far enough that he can't land his left hook.
2. Dropped right hand during left hook
This is one of the deadliest and most common mistakes. Even for professionals. I too, am guilty of this at times. Just about every boxer at some point in his career will drop his right hand when he throws his left hook. Most guys will cover their chin but hardly ever the forehead (it's just not comfortable to do this). Other guys drop the right hand all the way down to their chest when they throw the left hook.
EASY COUNTER – The easiest way to take advantage of this mistake is to throw a left hook. This common mistake is the reason why many trainers say that the best counter for a left hook is a left hook. No need to be fancy by rolling under, just throw your own left hook and make sure your right hand is tighter than his. The left hook exchange has created many knockouts in boxing history.
SELF DIAGNOSIS – Throw punches at a bag, and during sparring. Have a friend watch you during a sparring match to see if you're guilty of this!
3. Telegraphing the right hand
Many fighters have a terrible habit of moving their right hand from position before they throw a right. Some telegraph by lowering their right hand, others will pull back the right just before the punch.
EASY COUNTER – If you're a sharpshooter, you can pop him with a jab. Jabbing him accurately in the face will stop his right hand before it gets released. The danger of countering with a jab is that he might throw an overhand right and you end up trading a jab for a right hand—not a very good exchange.
The better way to counter a telegraphed right hand, is with a left hook. You can throw a short hook on the inside. Throw it early and time it so that it hits him right as his right hand pulls back from his face to load the right. You can also throw it later to have it land after his right hand has already launched; mind you, this should be a wider hook if it's going around or OVER his right hand/arm. If you pivot with your hook at the same time, you will land your hook while your head turns away from his right hand. Even if his head is covered by his glove or his shoulder, your left hook can still push him off balance.
SELF DIAGNOSIS – Record a video of yourself hitting the bag or sparring. You may be surprise at how far your right hand drops from position. This mistake can be shockingly apparent in sparring.
4. Exposed Body
This is a common and inevitable fact of punching. Your opponent's body will be exposed if his arm is extended during a punch. He can tuck his chin behind his shoulder or lean his head out of the way but his body will be wide open if you can get to it.
EASY COUNTER – The only way to reach his body while he punches is to rely on slipping. Let your slipping protect your head from punches, as you use your hands to counter from the bottom. Slip under his jab and land a jab on bottom. Or slip outside his right hand as you land a left hook (or right cross) to his body. The big tip is to COUNTER WHEN YOU SLIP. By countering simultaneously as you slip, you can attack him right as the opening presents itself. If you defend first before you try to counter, you might miss the opportunity.
SELF DIAGNOSIS – It's not really a mistake. but you can definitely be more aware of your body's openings while you punch. When you work the mitts, have you trainer counter your jab with a right to the body, or counter your right hand with a left hook to the body. This will force your elbows to come down faster after throwing punches.
5. Lifted Balance
This is another common mistake committed by just about 90% of all beginner boxers in the gym. They lift their hips when they punch. It's like a "jumping" elevation of the hips. The 2 reasons this problem is common are probably because 1) they believe it's necessary to reach with a punch and 2) they believe it gives the punch more power.
It's probably the incorrect attitude of believing that exploding upwards during a punch adds power. Which is wrong, but I'll leave that explanation for another day…let's work on taking advantage of this.
EASY COUNTER – There are several ways to take advantage of this mistake. One way is to ground yourself and counter at the same time. But right after your counter, use the same hand to push him off balance. For example, if your opponents is lifting his hips as he jabs: you throw a pushing jab, using your glove to push him back. Even if he blocks it, he will still fall back off balance…and vulnerable to your next punch. Remember to keep YOUR hips down.
Another thing you can do is slip or get out of the way entirely and watch him fall through his punch. Make him miss that first punch and then follow up immediately with a counter combo. Even if he lands his follow-up punches, he'll be too off-balance to cause any real damage. It's easy to win exchanges when your body is grounded and his is not.
SELF DIAGNOSIS – How to see if you have this vulnerability. Throw a jab and freeze…holding it out in the position that it lands. Have your trainer throw a left hook at your right hand (you're blocking it). If you fall over, your hips are probably lifted (ORRRR, you have a bad stance). Now throw a right hand, and hold it out as you trainer tests your stance with a left hook. Again, if you're falling over then you have a bad stance. Lastly, throw a jab to the body as you bend your knees a little and crouch down. Have your trainer throw a hook at your right glove. This one gets about 95% of the new boxers I test this with. (The trick, by the way…is to relax your hips and "drop" your weight when you punch. It's the only way to stand properly grounded during a punch.) It's more about RELEASING your hips rather than LOWERING your hips, which is a totally different thing.
What makes something a "MISTAKE"?
I don't think it's so much that a mistake is when you do something the wrong way ("bad technique"). Or that everything always has to be done the same way each time. It would be impossible to adapt to situations if you were to throw the same punch the same way every single time. If anything, these "perfect" techniques could make you predictable and enable smarter opponents to take advantage of you.
A mistake is something you're not aware of.
I like to define a "mistake" as something you're not doing intentionally. For example if I exposed myself somewhere without knowing it, that would be a mistake. And one that could be exploited by an opponent at my own expense. But suppose I exposed myself somewhere INTENTIONALLY, then it becomes a bait, and then it becomes a strategic ploy inviting my opponent to fall into my trap, at which moment, I would have a counter prepared for his attack.
You may have wondered in the past why it seems that some professional fighters make so many "mistakes". The truth is…they might not be mistakes after all.
The "mistakes" that pros make
may actually be strategic gambles.