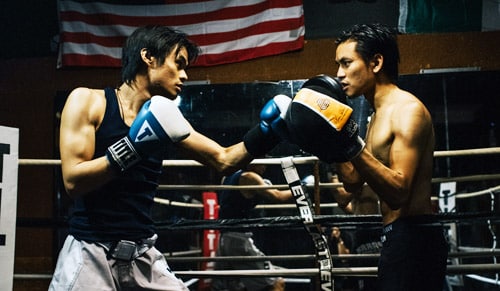 What separates the great teachers from the average?
Is it their technique?
Their training methods?
Their fighting accomplishments?
An ability to understand students?
I've noticed that in many gyms, the average student is well…average. Everyone is learning the right technique and doing the right training and yet the number of champions created are few and far between. And then there are the other gyms that seem more like talent factories, producing champions year after year after year.
It's been several years now that I've been not only a student in my craft, but also a teacher. Fortunately, I've always been surrounded by amazing boxing trainers, but it's just now that I'm really starting to notice the subtle differences in the philosophies of a great teacher from those of an average teacher.
I share 4 traits of the best teachers I know today:
What exactly is it that the best teachers do?
It really comes down to the way they think and they way they see things. Strong beliefs and philosophies are incredibly transforming. In fact, life is always changing. And to be influenced by a teacher with strong and positive energies makes it more likely that you will always be changing in the most positive of ways.
I originally wrote this guide for boxing trainers but I would easily say that this goes for teachers in ANY sport, art, or discipline. The principles are universal and can apply to anyone and anything. Great teaching skills is not so much about knowledge or training methodology…but approach/philosophy to learning, growing, and problem-solving. I find that the best teachers in life will help you find YOUR way to happiness whereas the others will only kidnap you and hold you hostage as they struggle to find theirs. Regardless of whether you are a teacher or a student, you must do it responsibly.
1. POSITIVE Reinforcement vs NEGATIVE Reinforcement
Positive vs Negative reinforcement is simply the distinction of focusing on what to do rather than what not to do. Instead of telling a fighter "don't drop your hands!", it's better to say "keep your hands up!"
It sounds like the same thing except from the other side of the coin but it's really not. One focuses on the right thing to do, the narrow range of "correctness" whereas the other focuses on the wide range of "mistake possibilities". Over time, the mentality of calling out all the errors starts to sound like, "don't do this" and "don't do that" and "ESPECIALLY don't do that!". It gets confusing, tiring, and tedious to keep hearing all the errors being called out. Instead of calling out the 50 errors, it's better to only focus on the few most important things.
But the explanation goes far far deeper than that.
On a basic level…calling out mistakes are confusing. The problem is you're calling attention to the bad just as often as you call attention to the good. Your fighter starts to worry about all the times he might be dropping his hands rather than staying calm and simply keeping his hands up. If anything, it's better that you don't call out his mistakes. Keep calling out only what he does right so that it's the only thing that gets imprinted in his mind. If all you ever say is, "Keep your hands up"…that's the only possible thing he can visualize in his head. Yes…later on, you're welcome to come over and make him aware of key moments that he screws up but you have to be really careful with what you point out and how you point them out. If you've ever watched dog training where the trainer uses a clicker, you will see that they click only when the dog gets it right. This makes the most sense to me.
On a deeper level…the mind can not focus on so many things at once. It's really hard and confusing to remember both "keep your hands up" as well as "don't drop your hands". It sounds like it's the same thing but in reality your mind visualizes them differently. The first one is the image of the hands being kept up, the second is the image of the hands dropping. It doesn't matter that you said, "DON'T drop your hands", the mind still visualizes an image of you dropping them. And so saying "DON'T drop your hands" is as bad as saying "GO AHEAD AND DROP YOUR HANDS". It's best to reinforce only the good as that's all that you want to have in the minds and consciousness of your fighters.
Focus on what you SHOULD do,
rather than what you SHOULDN'T do.
2. Developing SENSITIVITY vs RULES
This one right here really hits home to me. I think so many teachers are focused too much on the details. They've got years and years worth of knowledge and they try to pass on this knowledge in terms of details (or "rules). They teach their students these RULES, and try to get them to remember them forever.
So what are the "rules"?
The rules or the details can be anything. Don't drop the hands. Turn the foot. Move your head this way to slip the right cross. Move your head the other way for the left hook. Turn your ear 2.5 degrees when your body is touching the middle rope. Etc and etc. The rules go on forever.
And the rules do help…they work! The more details and rules you know, the more knowledgeable and skilled you will be as a fighter.
So what's the problem?
The problem for me is that the fighter doesn't develop his sensitivity, he only learns a billion things to remember. Let's take for example the technique behind slipping punches. Many trainers like to tell their fighter to slip a jab this way, and then slip a cross the other way, and if a punch comes from this angle, you slip from that angle, etc.
It sounds like the passing of knowledge but to me it's not empowering. The fighter doesn't develop his sensitivity or awareness this way. What he's going to do is rehearse these movements, commit that to memory, and then let these details become his auto-pilot (subconscious) rules.
If it were me, I would avoid teaching him these rules or details as much as possible. I might give some classic examples and common slipping tactics but instead I would focus on developing his sensitivity in all areas. I would focus on showing him and making him feel the full range of his upper body movement. Let him see how far he tilt his upper body one way, and then the other way. I would let him feel the full range and possible angles of where punches could come from. And to have him focus on possibilities. Instead of making him learn and remember 5 scenarios, I would rather him feel the limitless possibilities of the opponent's attack angles and the limitless possibilities of his slipping angles.
It's not about learning one style or even many styles. It's about being able to feel what's in front of you and having the ability to choose exactly what you need to do. I truly believe that teaching a fighter how to feel a punch coming is more important than teaching him 15 ways to avoid that punch. In a crazy way, I'd almost rather have a guy drop his hands in training and practice raising his awareness to avoid all those punches coming at him than for a guy to stick his hands up in the air and fight with dulled senses and not be as defensively aware. Of course, I'd probably tell him to keep his hands up but I appreciate his enjoyment and approach in playing with his sensitivity.
I've witnessed many times in the gym when one trainer would tell his fighters "THIS is the best way" and right at the very same time, another trainer on the other side of the room would proclaim "THIS is the best way" and show something entirely contradictory to his fighters. And if you, as a student, try to make sense out of this confusion…you'll probably pull your hair out before you figure out the true essence of the technique within all that conflicting information.
I think the truth lies in developing your sensitivity. It's not so much that using one style is better than the other. And it's also not that using multiple styles is better than one style. It's that whether or not you decide to use one method over another method, it's the fact that you've trained in both that you now possess a higher awareness than those who don't. For example: even if you choose to only block rather than to slip punches, even just learning that slipping skill will give you better awareness for blocking punches. I believe it's the same with learning boxing styles. Even if you prefer to fight like Mike Tyson rather than Muhammad Ali, spending some time with Ali's style can actually help to grow your understanding and even become more skillful at using Mike Tyson's style.
One humbling realization I've made after many years of training is that I've come to find that many seemingly conflicting styles have often turned out to be quite similar in the end. It's like realizing that the colors blue and green are all closely related and only have one tiny difference from each other (mixing of yellow). It's only when you truly study the differences of conflicting styles, that you truly understand your preferred style. Sometimes it takes multiple angles and viewpoints of one thing before you truly understand that "thing".
Develop your sensitivity,
rather than to learn only rules.
Or let's talk about the subject of when a fighter drops his hands. It's easy for a trainer to yell at his fighter to keep his hands up. It's easy to call the fighter lazy or "bad habits". But what you may not realize is that the fighter simply lacks sensitivity. He doesn't know when his hands are dropping. What's even worse is that he actually THINKS his hands are up when in fact, his hands are down. And that's more of the problem right there…a lack of sensitivity. And so I would teach him to be more aware of when it drops and when it's up. And rather than to force him to keep it up all the time…I'd rather make it a point for him to always know when it's down or up. I would probably say something like, "I don't mind if put your hands up or down but you better know when you're doing it. And if you're going to drop your hands, it better be because you're intentionally doing it for a strategic reason rather than doing it unconsciously by accident."
It's best to develop the fighter's sensitivities. Make him come alive and FEEL. This goes for everything, learn how to feel and become more sensitive to things. The moment you can FEEL the situation, you'll be able to make all the tiny adjustments and really adapt yourself to the situation. If all you have is 500 rules that you live by, guess what, you're not feeling. There's a good chance, your sensitivity and awareness is sleeping and that you're fighting like a robot and only able to do what you've been programmed to do. And the moment something outside of what you've been taught happens, you freak out and lose because you don't have an answer for it.
3. Solving ROOT Problems vs BRANCH Problems
I had a great teacher explain this concept to me not too long ago. It's an important distinction and one that I never had the words to explain until quite recently.
The idea is simple. Basically, there are "root problems" which are the REAL problems (or rather, the primary problems), and then there are "branch problems" which are the secondary problems caused by the root problems. It's important to make this distinction because it helps you figure out what the REAL problem is…and what exactly it is that you need to fix. It's a common occurrence in ineffective problem-solving for people to pick at the branch problems rather than to fix things at the root. You may have of heard the term "band-aid solution" and that's exactly what it is. You're only putting a band-aid on the problem at the surface level rather than to dig deeper and see what it is that's really causing all the problems.
The biggest detriment to your ability comes when you solve branch problems only to create even more branch problems. It's common for people to try and solve the problem of bad technique by using even more bad technique. I like to call this "anti-technique" because it's technique that was only invented to solve the scenario of other bad technique. (In an ideal world, anti-technique wouldn't exist because it wouldn't be necessary.) Imagine layers upon layers of bad technique to help balance each other out. But in reality, you never find the balance point because you were never in the right position in the first place. And so the solutions to branch problems keep causing more branch problems and you find yourself in a never-ending battle of fixing surface level mistakes and feeling hopelessly drowned in errors.
For example…let's look at a problem like bad punching technique. Bad punching technique (root problem) can also lead to falling off balance (branch problem). If you're not careful, you may fail to realize that your loss of balance is not because of your bad balance but because of the way that you visualize punching technique. You might even make the mistake of trying to strengthen your legs and throw reminders into your head like "don't lean too far forward when punching" and it does help, but it doesn't solve your problem. Improving your balance doesn't change the fact that you're still throwing yourself off balance when you punch. If anything, the two principles of: trying not to lean forward while at the same time trying to throw yourself forward (because that's your punching technique) is only going to be conflicting against each other. Your punching technique relied on a forward momentum and now you're taking that away, so what do you get? DECREASED punching power. And now guess what? You're going to think you have bad punching power and need to go lift weights or do something else. And then you'll go spend all this time doing strength and conditioning and STILL, you will not have good punching power or balance.
So the good news is…all the one hundred million mistakes that you make and get called out for, it probably all boils down to just maybe 5 key mistakes. That's it. It's really just a few things that are wrecking your fighting ability. You don't actually have to go out and learn 500 things to become that much better of a fighter. You only need to change maybe 5 things and that's it! In fact…learning those 5 things is really the only way to get better. Otherwise, you'll be stuck at the intermediate level…learning a bunch of stuff and changing your technique in 500 ways but you won't really improve much because you're still unable to solve your core problems.
The hard part is to find a coach who can recognize these core issues. It takes a really wise and experienced coach to really understand what it is that you're doing wrong. Let's imagine a scenario where there is a fighter who keeps dropping his hands during a fight. There's a difference between a coach who says, "keep your hands up" and a coach who says "keep your upper body upright". The first coach is only stating the obvious. It's a shallow observation that anybody with an eye can make. The second coach is actually digging deeper into the mind of his fighter and understanding how his core approach is fundamentally flawed. You see the first coach is seeing dropped hands and so he tells his fighter to keep his hands up. The second coach is understanding that this fighter keeps leaning back off balance with his upper body and so it's only natural that he drops his hands to help counter-balance his upper body.
I tell you, a really REALLY good coach is going to see all your roots. He's going to make you aware of things you didn't notice about yourself. He can dig deep into your habits and instinctual responses and he really understands why it is that you make the mistakes that you do. He knows which mistakes need to be fixed and he also knows which mistakes will go away naturally. And so with a good coach, you will feel like all the adjustments are natural and easy. On the other hand, a not-as-effective coach will make you feel like you have to remember a billion things. This coach will make you feel like it's so easy to do the wrong thing and that you have to walk a perfect line without making any mistakes. "Keep your hands up! Pull your head back! Bend your knees!" and so forth and so forth. He only has a basic understanding of your mistakes, so all he can do is pick at all the little things you do wrong on the surface level. He won't know how to say the one tiny thing that can magically fix the 50 things you do wrong. Worst of all, you will listen to all of his advice but you won't get any better, and you might even blame it on yourself and think that you have no hope.
If you do some careful thinking, I'm sure you can come up with many examples of root problems vs branch problems. I urge you to dig deeper and to really think about the "mistakes" you're making. Perhaps you need a deeper level of understanding to really fix them and I hope that you take the time to do some real thinking rather than to walk around trying to remember a laundry list of obvious fixes.
Find and solve your root problems,
rather than your branch problems.
4. Responsible teaching
By "responsible teaching", I mean that a teacher must be careful not to ruin his or her student. And I feel this happens all the time because of the teacher's ego and self-serving bias. Just as a student must put down his ego in order to allow room for true learning, I feel a teacher must put down his ego in order to pave the way for true teaching.
A student who is trying to learn responsibly would put down his ego by listening to what the teacher has to say. And to try it and obey it even if he disagrees. He would consider all advice to be potentially helpful and to give the information a chance to pass through him. A responsible student would take care to listen to several teachers and to compare different beliefs, even conflicting beliefs to open his viewpoints on the subject. The responsible student would do his best to learn while allowing his teachers to do their best to teach.
On the flip side…a teacher who is trying to teach responsibly would put down his ego by paying attention to what the student needs to learn. Instead of projecting his experiences or imposing his bias onto the student, the responsible teacher helps to guide each individual student to his or her unique path to growth. The responsible teacher must be able to put down his ego and be honest to his student. The teacher must be willing to go against his own beliefs if needed, to teach the student methods of a different style or even to point the student to another teacher. The teacher must respect the student and not ruin the student's unique style and qualities.
I should share some ways how responsible teachers have worked with me in the past:
1. Teaching me their technique while still allowing me to use my own techniques, and even helping me to refine my own technique.
I remember times when my own trainers would say that they would not throw a certain punch the way I did but that they liked how I did it and they even took the time to help me improve my own unique punch. Then they would teach me their version but they would not dare to say that my version was wrong. Looking back, this one of the most generous things any teacher has ever done for me…which was to allow me to be me. It has lead to my success and I look back with fond memories and appreciation for them.
2. Sharing my failures with me.
I think it is all too common that a selfish teacher will only want to be a part of your success and never your failures. When you do well, it is because of him. When you do terribly, it is because you did not listen to him. You are only an extension of his advice…celebrated when victorious, and discarded when defeated. You feel like you will never be as good as your teacher and that you will never be good.
I think every teacher must take responsibility for the result. And this is why it bothers me so much when people go around freely offering advice. I think it's truly selfish if you don't know the impact you have. Whatever you say, may or may not have an impact on the outcome. And when you speak your "truth", you better damn well stand behind it. There are so many "teachers" who only offer advice to boost their egos and then will selfishly take part of the student's triumphs only to disconnect and take no responsibility when the student fails.
Knowing that the student's failure will also be their failure, I find responsible teachers to be far more judicious in their offering of advice. No more do you hear a bunch of barked orders. Every instruction is carefully crafted. The teacher no longer cares that he is teaching a lot but rather that you are learning a lot. You will find that responsible teachers are very cautious about what they say and what they teach.
A great teacher will share with you in your failures,
for your failures are just as much his as they are yours.
3. Showing respect to me.
I tell you, the best teachers I've ever had are the most humble. Some of the smartest, most accomplished teachers I've ever had were the first to admit to me when they saw that I possessed a talent even they did not have. They were the first to say, "Johnny, you actually do this better than I do. I can't teach you anything on this matter." And if anything, they even stepped down to learn from me and to take joy in figuring out how it is that I do what I do. In contrast, the lesser accomplished teachers would be the first to try and over-teach me on every single point and to make an imprint in all of my techniques, and if they ever saw that I did anything well, their ego would simply overlook my strengths rather than to tell me that I did something well. Some of the best teachers I've ever had actually refused to teach me on certain points because they felt I would naturally learn better than they could teach.
This is a very funny distinction but I've always noticed that the BEST teachers always made me feel as though I could be as good as them (or even better) when in fact, I felt like I could never possibly reach as high of a goal. And the WORST teachers were always acting like they were on a level far beyond my capacity when in fact, I felt like I was probably already better than them.