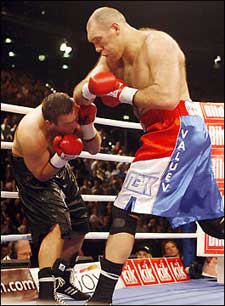 7 reasons why sparring with bigger opponents will keep you from improving as a boxer.
I see way too many beginner boxers too eager to prove their worth by sparring with a bigger opponent. Although fighting bigger opponents will certainly prove to yourself and anybody else watching that you're a brave strong little man, you'll do little to improve your boxing skills. There's nothing wrong with challenging yourself in the ring but it is wrong to think that sparring with bigger fighters regularly will make you a better boxer.
So why is it that you shouldn't always be sparring with bigger opponents? I list the reasons below:
Fighting For Survival
(This is the most important one!) The fight quickly becomes very one-sided as your attitude becomes more defensive with each passing second. The simple fact is, you can't take his punch and you don't have the defensive skills to get yourself out of the way. Blocking punches doesn't work because his heavy hands crash through your defense like rocks through paper.
What happens next is what I see ALL THE TIME: the smaller boxer will start to make up his own techniques for "slipping". He starts to bend at the waist, lean forward into his opponent, or lean back, and sometimes turn his head sideways away from his opponent. He'll cower behind a high guard or Philly shell defense (the rear hand in front of face, front hand dropped low) and take his eyes off his opponent. At this point, he's no longer fighting back…he's just trying to survive.
It gets even worse, the smaller fighter starts to get real good at "surviving" and routinely loses fights against bigger guys with the confidence of knowing they were "too big to beat". His friends even build his ego by patting him on the back for taking on such "big challenges". He builds a habit of always skillfully losing and it becomes all he ever knows how to do.
You Don't Know What Works
How are you supposed to know if what you're doing is working? You don't know if you're punching correctly or boxing correctly because he might be too big to feel your punches. How would I ever know how hard I was punching if I was simply hitting a brick wall that doesn't sway or give me any feedback. While standing up to bigger opponents will build your ego, what you should be doing is building your skills by training with something that can give you feedback. A smaller opponent will show signs of pain and lose balance when you outbox him properly. A bigger opponent…well, he might just laugh at you.
Big Guys Are Slower
The most common advantage I've seen people use to beat a bigger opponent is speed. While it looks impressive in sparring, it may give you a false sense of security. You start to believe your own hype and consider yourself the next Muhammad Ali. So what happens next? You go to a tournament and get beat up by somebody your own size because he's faster and can slip all your punches.
The Big Guy's Defense Sucks
The big guy is not afraid of your punches because they don't hurt him at all. He'll fight you with risky tactics and uncharacteristically jump in with wild movements he wouldn't normally use. He'll fight with a lazy guard and take punches eagerly. Everything you throw will land and he doesn't seem to care. Your offensive skills will stagnate and you won't realize it until you find yourself in the ring against someone who cares about defense.
Fighting To Win, Not To Learn
The guy is so big that you're not focused on learning. You're busy figuring out ways to survive and win. What typically follows is that you learn a trick or method of beating the big guy and you stick with it the entire fight. You avoid practicing new boxing skills since "practicing" means you have to take some punches in the process.
You Develop Bad Balance
Although you can match a bigger guy's punching power or ability to take a punch, you will NEVER match his body weight. That means every time he moves into you, you will never have enough body weight to overcome his mass. You will lose balance as he pushes you around and lands blocked punches on you. Overtime you will develop a bad balance and even worse, the bad habit of giving up ground too easily. I am totally guilty of this because of too much sparring with bigger opponents. The habit is so ingrained that I sometimes give up ground even against smaller opponents even when they're not really pushing me.
The Big Guy Can't Or Won't Challenge You
Another common scenario: the bigger opponent is unable to challenge you because he is not as skilled as you (probably the reason why you're sparring him, right?) or he is definitely too skilled and doesn't want to hurt you because you are smaller. If you're sparring with a bigger guy who can't match you in skills, you won't learn much since your skills will always be better than his no matter how crappy you box. The other alternative is that the bigger guy doesn't see it fair for him to hit you full force or push you since you're a smaller guy and so he takes it easy on you. You'll dangerously build the false confidence of thinking that your abilities are better than they really are because you believed the big guy was giving 100% effort.
Final Thoughts About Sparring Bigger Opponents
Ultimately, learning how to box means you should be training in conditions that promote and foster the development of overall boxing skills. In my opinion, sparring with bigger opponents will develop more of your survival skills than it does your fighting skills. Given all variables are equal, a bigger opponent will have an undeniable advantage over you and force you into a mode of minimizing damage taken instead of maximizing damage given.
My favorite way to elevate my skill is to fight a smaller but more skillful opponent. I can learn as they outbox me because their power isn't hurting me as much. Their better speed and coordination forces me to think faster.
The same boxing skills that would defeat a larger opponent should defeat a smaller opponent, so why not spar with a smaller opponent where you can focus more on fighting instead of surviving? Ultimately, training should reflect actual fighting conditions and you'll always be more likely to compete against boxers your own size. There's a reason why weight classes exist – think about it.