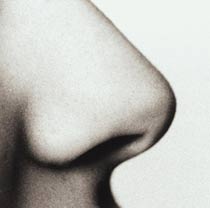 Q: My nose bleeds easily when I fight even when I don't get hit hard. What can I do about it?

A: I'm no medical expert but from what I know, nose bleeding can be real common in youngsters. It varies from them not getting enough vitamins for clotting blood, blood pressure built up from muscle stiffness elsewhere in the body, or just genetic disadvantages in their nose structure and nose muscles.
My youngest brother was 15 and bled everyday in the gym. You only had to look at him and he'd start bleeding for no apparent reason. As soon as he got older, it stopped all of the sudden. From what I've seen, a nosebleed problem is usually just a phase that goes away as the fighter gets older.  Fortunately for me, I never bleed from the nose no matter how hard I get punched during a fight.
I once saw a Russian fighter (Russians commonly have protruding noses that easily get damaged while boxing) "warm-up" his nose before every fight by rubbing it with the palm of his hand and slowly bending and wiggling his nose with his hands in every angle. He swore that it helped him and truth be told, I hit him several times with big shots in the fight and he never bled. I hope this helps. Good luck and thanks for writing! – Rado