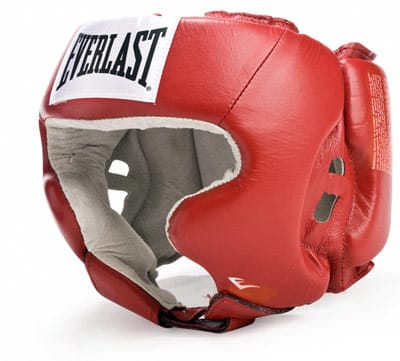 The official ExpertBoxing Headgear Review of all the boxing headgear I've used over the years. I share my experience of 18 different headgear and explain why or why not you should buy them. I list their level of protection, comfort, and pricing among other important factors. Learn important aspects about headgear to protect your head and enjoyment in boxing!
Headgear Review Criteria
Here are the factors I consider when using boxing headgear. Some of these may or may not matter to you. Over the years, I've come to be more sensitive and more aware of how different headgear feels on my head after having sparred for so long. The real benefit of this guide is that I've used all these headgear and can compare them in relation to each other.
Comfort & Fit
This has got to be the most important factor in headgear. It doesn't have to feel like it's custom-made for your head but you should feel confident in your protective equipment. Fighting is stressful enough as it is, you shouldn't be wearing something that distracts you, annoys you, or feels uncomfortable. At the highest levels of boxing, many fighters will sacrifice cushion for comfort because speed and relaxation offers more protection than cushion.
I describe comfort as how well the headgear conforms to my head. Some headgear squeezes at the side or at the forehead and back of my head. Others are too slippery or move around too much. Some headgear has a very uneven fit creating small gaps between the headgear and your head making it very wobbly when you take punches.
The inside lining will also be a factor. I especially hate smooth lining that allows the headgear to slide around my head when I spar. On the other hand, some people don't like the furry lining because it feels annoying or dirty.
The chin strap is also especially important. Sometimes the chin strap is too loose so you feel like the headgear isn't tight enough. Other times the chin strap is too close that it feels like you're being choked.
Visibility
The ultimate punch protection is complete evasion, but it's hard to defend against punches you can't see. Even if you still get hit, it's crucial that you see the punch. Being able to see the punch allows you to brace for the impact or roll off the shot and also evade the follow-up punches. The more advanced boxers rely on good defense over heavy padding for protection.
The ultimate punch protection is complete evasion.
Visibility is determined by the cheek protectors and forehead area as well as the thickness of the padding around the front of the face. Different brands and different models all vary in the amount of padding and shape of the cheek protectors. Too much padding and you'll feel like you're buried deep inside your headgear. Cheek protectors can be bent a little bit outwards so they don't cover your vision too much.
I must also advise you to try on different sizes. Headgear that's too big for your head will protrude further out from your face and takes away some of your vision. The cheek protectors will also be bigger and farther from your face, further decreasing your vision.
Padding
This is protective equipment so padding is especially important. I assigned a "Cushion Rating" to all the headgear. The rating goes from 0 to 10. 0 equals nothing. 10 equals invincibility.
I rate the headgear's cushion by my PERCEIVED THICKNESS of the headgear while taking punches. Actual thickness and what it feels like in my hand doesn't matter.
I wish headgear cushioning was simple but it isn't. Some headgear perform well against light punches but terribly against hard punches, and vice versa. Why is this? I'm not certain but I'm guessing the softer the cushion the better it does against light punches. Harder cushion will also take longer to break in but I don't mind this. I'm usually very excited to get in the ring so breaking in new headgear becomes another excuse to get in there.
Quality
I determine quality as how well the headgear is made. Will the padding stay strong for years or will it get soft after just months of use. How well is the chin strap built? This area is crucial because it's the thinnest part of the headgear, takes a lot of stress, and gets used the most. Many of the cheaper headguards have poorly-made chin straps that fall apart after only a year. The buckle breaks easily or the strap itself tears easily. The headgear is useless if you can't even strap it to your head. Quality headgear will last forever, don't buy anything less.
Coverage
The main areas of coverage on the headgear are the forehead, cheek, sides, chin, and the back of the head. Different headgear will vary in their coverage.
The cheek and forehead are the most important areas because that's where you'll be hit the most, AND they affect your vision. The sides of the headgear are also crucial because you'll be hit there often. The side doesn't affect your vision but you don't want it too thick because you'll feel like your head is a giant target.
The back of the head will vary in amount of padding for different headgear. Wide punches often land there so be aware of that if you have a boxing style that takes many punches to the back of the head. (ie: lots of rolling).
I've found headgear with chin padding to be incredibly annoying. The chin padding makes it difficult for me to lower my chin and doesn't seem to cushion my chin at all. Some headgear also have a facebar which is a bar going across the nose). I've seen many pros sparring with this headgear and enjoy its level of protection. I think it's great if you have a nose that could break but otherwise the facebar makes it difficult for me to see punches during sparring.
These facebar (aka "facesaver") models are commonly used by competitive fighters to prevent breaking their noses or getting a bruise/cut before a fight. Keep in mind that some of them protect the nose more whereas others may have the bar lower to try and protect the chin (as well as increasing vision).
Size & Weight
The headgear's size and weight will definitely affect your mobility, especially your head movement. The lighter and tighter the headgear feels, the easier it is to slip punches. Big clunky headgear might have more padding but you'll feel like your head is a giant target and hard to cover when blocking at close range. Lightweight fighters will appreciate a slim headgear more whereas heavyweights perceive all headgear to be "light".
Boxing VS MMA Brands
Time and time again, I've found boxing gear made by reputable boxing brands to be far superior to the ones made by MMA brands. I feel this way about boxing gloves as well. The gear built by MMA brands might look and feel the same but they don't last as long. Boxing gear made by MMA brands lose their ability to cushion after a year; they either get too soft or too hard. Gear made by boxing brands can last easily beyond 5 to 10 years with normal use. It's not uncommon to see 10-year-old boxing gloves in a gym.
Training Headgear vs Competition Headgear
I have to clear this up. Training headgear is generally more heavily padded than competition headgear. It offers better protection for all the punches you will take in regular sparring. Competition headgear is generally slimmer and lighter, trading off padding for mobility so you can move your head faster and avoid getting hit entirely (which equates to points scored against you).
I recommend everyone to train with training headgear and then use official approved competition headgear only during competitions. I don't recommend using competition headgear during training because it offers lower protection. Training is your time to develop new skills and new tactics, so it's expected for you to take some punches while learning.
Padding VS Visibility
Increased coverage and padding almost always comes at the cost of visibility. So find your tradeoff. Being a high speed lightweight, I find visibility to be especially crucial to fighting. I generally like headgear with smaller cheek protectors and then find the most padded one that isn't too heavy or too bulky. If you're new to boxing, you'll have to experiment until you know how much padding & visibility you like.
Buy Your Own
You can save money by using the community headgear at your boxing gym but there are good reasons to have your own. It's gross to put on headgear with someone else's sweat on it. Sometimes it's more than just sweat; there's blood or even blood stains.
Your own headgear will always be adjusted for your head so it fits perfectly everytime. Using the gym headgear can be a hassle because it might not fit right and/or the one you want is currently used by someone else.
…. now onto the headgear review!
1. EVERLAST Headgear – $35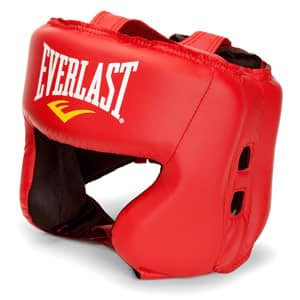 Cushion Rating – 2
Experience
This thing felt like a toy in my hands. It's simply a novelty for kids to "play boxing". I wouldn't recommend this for any boxing sparring. Even if you insist on being cheap, I would tell you to save the money and borrow someone else's headgear, or put a bicycle helmet on your head.
Opinion
Don't buy it. Even if you get one for free, don't use it.
2. EVERLAST Classic "Old School" Headgear – $39
Cushion Rating – 3
Experience
The padding is too stiff that it doesn't feel like padding. The coverage feels awkward. I don't get why Everlast sells this. You'd think all the "old school" boxers were retired by now.
Opinion
Don't buy it. I think it's safe to say new school headgear is far better than old school headgear.
3. "PRO" Mexican Style Headgear – $45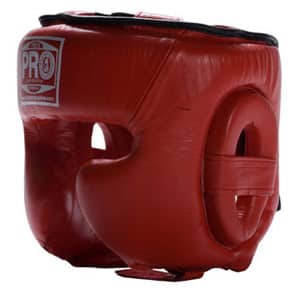 Cushion Rating – 4
Experience
I bought this at a local store when I was new to boxing and didn't know any better. You'll find this generic brand randomly throughout California. I bought it because I was cheap and did regret my decision shortly after. The padding was ok at first but quickly got soft even with minimal use. The buckle was cheaply made making it a hassle to put on and take off the headgear even with a second person helping me. Most "PRO"-brand headgear I see have a messed-up buckle where the stick in the middle swings both ways past the box.
Opinion
Don't buy it. I once showed up at a boxing team tryout with my "PRO" headgear and the head coach laughed. Need I say more?
4. WARRIOR Pro Training headgear – $59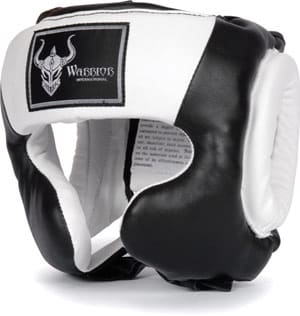 Cushion Rating – 4
Experience
One of my main sparring partners had this headgear. The cushioning is far too soft. My friend did explain it wasn't this soft when he first bought it.
Opinion
Don't buy it. The padding is way too soft.
5. TITLE Classic Power Air Training Headgear – $39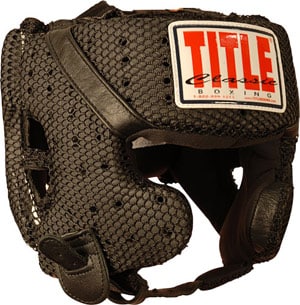 Cushion Rating – 4
Experience
The holes definitely make your head feel cool and free. It's also very light so if you combine that with the breathable holes, you'll feel like you're not wearing any headgear. Unfortunately, the poor cushioning also adds to that effect. The cushioning is so poor you feel like you're not wearing any headgear. I couldn't understand it. The headgear felt great and very protective in my hands but not when I was taking punches.
Opinion
Don't buy it. It feels great but the cushioning is far behind other headgear in the same price range.
6. FIGHTGEAR Air Max Training Headgear – $49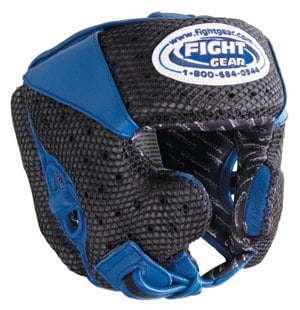 Cushion Rating – 4
Experience
Same experience as the TITLE Classic Power Air headgear. Very light and breatheable but not much protection.
Opinion
Don't buy it. There are many better options for the price.
7. EVERLAST Competition Headgear $69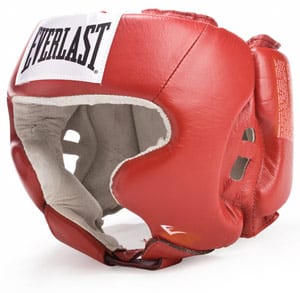 Cushion Rating – 6
Experience
I spent the most time with my Everlast competition headgear and must say it's great. I had the one with cheeks, not the open face version. It was very comfortable, very light, good protection all around the head. Even though I had the cheeks version, the visibility was very high. I didn't feel like anything was blocking my vision.
The suede grip on the inside kept the headgear stable and secure to my head. I never had to readjust this headgear during intense exchanges. I must also say that I'm a HUGE FAN of the velcro chin strap. I especially dislike headgear with buckles. The velcro is so much easier to use and allows you strap exactly where you need it instead of fumbling around all day to look for the hole. You can easily put it on and take it off all by yourself without having to look in a mirror.
Opinion
Buy it. Highly recommended for competition use and light sparring. The velcro strap alone is highly appreciated. It's a great buy at $69 and will last years of abuse. I would however look into more expensive headgear if you're doing intense sparring.

8. TITLE Traditional Training Headgear – $49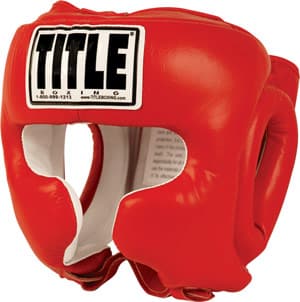 Cushion Rating – 7
Experience
Good headgear. Good coverage and good protection. Great deal at $49.
Opinion
Buy it. Good for training and cheap price.
9. TITLE Platinum Training Headgear $59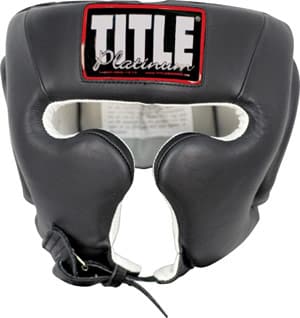 Cushion Rating – 8
Experience
Great headgear. Thick and feels great. Some people might be annoyed by the cheek protectors.
Opinion
Buy it. For only $10 more than the TITLE Traditional Training Headgear, why not?
10. TITLE Boxing Competition Headgear – $59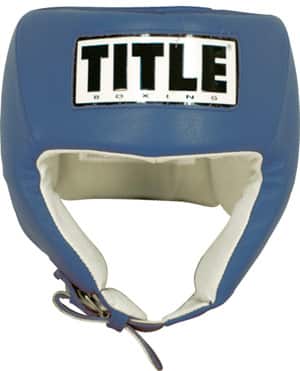 Cushion Rating – 5
Experience 
Good padding, comfort, and lightweight for competition. Feels great, everything good. The one pictured above is the open face version, but there is also a version with cheeks.
Opinion
Buy it. Great for use in amateur competition.
11. TITLE Boxing Face Protector Training Headgear – $89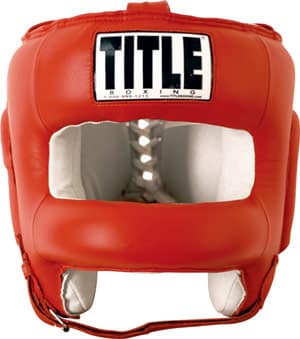 Cushion Rating – 10
Experience
Good padding, comfort. Built for heavy-duty sparring! The face bar is great for fighters that are more prone to broken noses. Many of the middleweights and heavyweights at this Mexican gym I use to train at used these all the time for sparring.
I personally found the face bar to be incredibly annoying. I weigh around 140-145lbs so guys in my weight class typically prefer an open face design to help us see faster punches coming from all angles.
Opinion
Buy it if you don't like getting hit in the face. Beware of the face bar potentially blinding you from certain punches. Padding doesn't help if it blocks your view of the punch.
12. RIVAL Traditional Training Headgear – $69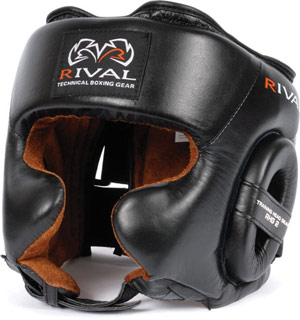 Cushion Rating – 8
Experience
GREAT headgear. Looks sexy, feels great, and takes punches very well. I felt very protected when I first put on this headgear. It feels slim and yet secure. You will feel very comfortable, fast, and protected in this headgear. It's one of my all-time favorites.
Opinion
Buy it. You won't find a better combination of padding, slim size, and comfort under $100.

13. FIGHTGEAR Master's Competition Headgear – $69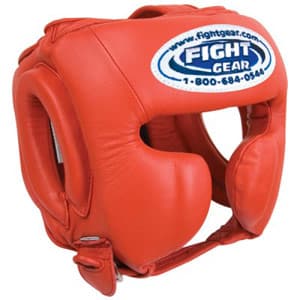 Cushion Rating – 9
Experience
Great coverage and great protection. Thick padding all around the face. Excellent choice for brawler boxing training. The padding is thick so make sure you get the right size or you'll feel buried in the headgear. The inside is also a little smooth so it slides a little bit.
Opinion
Buy it. It's great protection at a great price, as long as you don't mind having a little less vision.
14. FIGHTING SPORTS Tri-Tech Training Headgear – $99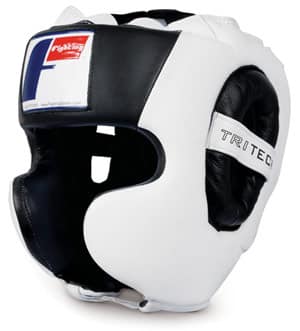 Cushion Rating – 8
Experience
Great padding and comfort but sorry, I can't recommend this headgear. The inside is far too smooth. The headgear slips and slides around your head even when you're not sweating. I got tired of it constantly spinning around my head and took it off after 1 minute of sparring.
Opinion
Don't buy it. Great padding, coverage, lightweight, comfort but ultimately unusable because it slides too easily.
15. RIVAL d3o Pro Training Headgear – $129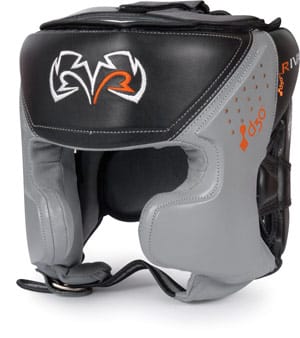 Cushion Rating – 10
Experience
This is currently my main training headgear. This headgear is built with great quality and protection all around. Everything from the padding to the top of the head to the straps in the back screams quality. Great fit, great padding, and comfort. The cheek protectors and padding around the eyes did feel like they were slightly blocking my vision. I didn't mind it but other boxers might.
Opinion
Buy it. Great protection and comfort.
16. ADIDAS Amateur Boxing Competition Headgear – $129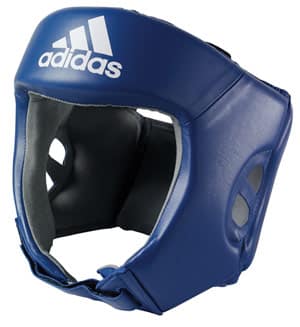 Cushion Rating – 5
Experience
I never used this headgear but I did get outboxed and beat up by a guy using this headgear. Hahaha, ok I did get a chance to feel this headgear on several occasions. It's very minimal padding so you feel like you're not wearing any headgear at all. You shouldn't be using this unless you're super slick and/or competing at the international level. I must admit that the cushioning is surprising good considering you're hardly wearing anything.
Opinion
Buy it if you're slick enough.
17. GRANT Professional Headgear – $179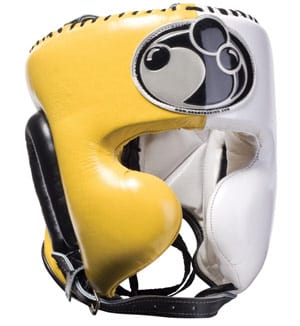 Cushion Rating – 10
Experience
Great cushioning against soft and hard punches. I see many brawlers and heavyweights using this headgear.
Opinion
Buy it. Great quality and justified price.
18. WINNING FG-2900 – $295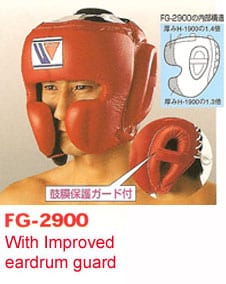 Cushion Rating – 8
Experience
I wish I had a better picture of the headgear but then I realized the manufacturer's image displayed it best. The headgear is a no-BS piece of equipment used by serious boxers around the world. FYI: Winning is known to be one of the best brands for boxing protection. Their gloves are reknown for offering the best hand protection. This is something you should consider if you're a serious power puncher and need your hands for years of abuse.
BELIEVE THE HYPE! At first, it's hard to imagine anything this thin and light to offer so much protection but it does! You won't believe its performance until you spar with it.
This is what the pro's use in training and for good reason. It's super light and very comfortable so you feel like you're not wearing anything at all. The protection level is very high for such a lightweight headgear. I should warn you that the protection in the back of the head is minimal!
Opinion
Buy it. The price is well justified. It's great protection and comfort but what really makes the difference is how light it is. It's the lightest headgear I've ever worn and high level fighters appreciate this quality tremendously.
The Winning FG-2900 wins the EXPERTBOXING AWARD FOR BEST HEADGEAR!
19. WINNING FG-5000 – $450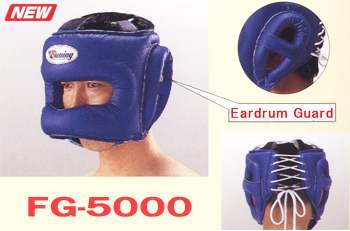 Cushion Rating – 10
Experience
This is the most common headgear I see used in the gym by competing amateurs and professionals. Same Winning quality but with the bonus of the face-saver bar. The funny thing is I hear this FG-5000 model actually has better vision than the FG-2900. The reason is because the FG-2900 has the cheek protectors wrapping more around your eyes whereas as this one has the opening a bit bigger since you have a bar right in front. It's a good choice for competing fighters to risk not getting their nose broken before their fights. So the bar not only gives you more protection but allows the headgear to give you a wider field of vision.
For those wondering, some people DO prefer the FG-2900 model over the FG-5000 because it feels less bulky. I suppose you might prefer it as well for when you're sparring months out without any fight scheduled and want to feel loose and quick.
Opinion
Buy it. Worth every penny if you're boxing seriously. All the best fighters have it, IMO.
The Winning FG-5000 also wins the EXPERTBOXING AWARD FOR BEST HEADGEAR!
Final Headgear Recommendations
Your brain is vital to your longterm health and enjoyment in life so do your best to protect it. There are many people who will argue that headgear only protects the skin or the bone, and that it can't cushion the brain. That may be so, but I'm still going to wear the best headgear I can find in hopes of minimizing that risk. This is your head and your health, so buy the best boxing headgear there is once you start boxing seriously.
At the very least, headgear that makes you FEEL more comfortable and more secure will protect you the most because you'll be more comfortable and fight better. So wear what makes YOU comfortable and feels the most secure to you. Everybody's head is different and will fit different headgear differently. Your fighting style will also be another determining factor in what headgear you can get away with. I sure as hell don't recommend brawlers to be using the slimmest headgear.
The BEST Boxing Headgear
If I don't mention any other head gear, it's because I have no experience with it, or at least not enough to form any opinion. The only headgear I used are the ones I listed here. My favorites are the Rival Traditional, Rival d3o, Everlast Competition, the Winning FG-2900, and the Winning FG-5000.