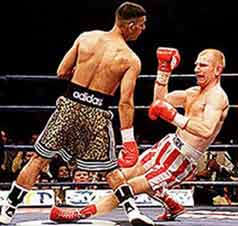 Have you ever been beat by a guy throwing wild punches or outboxed by an opponent with his hands down by his waist? Find out how they did it.
You see it all the time in boxing: fighters going against the conventional wisdom of boxing. Muhammad Ali fought an entire hall of fame career with his hands down by his waist.
Look at this incredible highlight video of Prince Naseem:
You have to admit: for a guy with no defense, he achieved quite a lot in boxing.
So now you're wondering: how the heck did these guys achieve all their success with their so-called bad technique?
They did it using anti-technique and style!
What is anti-technique and style?
Anti-technique and style are both methods of being successful with "improper" techniques. Think about it. If you take a fighter and make him do everything exactly to the textbook, he is nothing but a boxing robot clone. Although there is no such thing as a neutral fighter, you have to imagine how you might describe one. You might say that he is a perfect robot or maybe that he is boring. I would say that he makes no mistakes and therefore has no style.
Every real boxer has a style. It is what makes them human and makes them perfect despite their perceived flaws.
Mike Tyson used power.
Muhammad Ali used speed.
Joe Frazier used aggression.
Floyd Mayweather used defense.
Thomas Hearns used range.
Study any boxing champion you can think of and you will see that he was famous for a particular style. Study their careers and you'll see that many of them lost to opponents that were able to exploit their style!
Style is what makes boxing so exciting. Just like how a boxer's hands carry the 2-fold responsibility of attacking and defending, a boxer's style will carry the 2-fold responsibility of giving him his strengths and weaknesses.
Anti-Technique
Anti-technique is inferior technique used to your advantage to overcome a specific technique used by your opponent. Anti-technique is when you go against conventional boxing methods and make a technically incorrect move to exploit "real" technique used by another fighter. The reason I call that anti-technique is because it is generally considered inferior technique and has more flaws in most situations than the proper technique. Anti-technique is universally regarded as bad technique and the reason it is distinguished with "anti" is because it is limited to being able to beat only one technique.
Examples of Anti-Technique
What is the Advantage of Anti-Technique?
Anti-techniques are very effective against opponents who are better skilled than you. They are sometimes subtle leaving your opponent unable to figure out how your ANTI-technique is beating his superior "trained" technique every time. It is due to using anti-technique that wild unskilled brawlers guys like Ricardo Mayorga sometimes beat highly skilled boxers like Vernon Forrest and nobody knows why. Before their fight, Forrest probably perceived Mayorga's wide punches to be a weakness but during the fight, Mayorga's looping punches became his advantage to defeating Forrest's conventional defense.
Anti-techniques can also be effective because they are so uncommon. It is usually in beginner level boxers that you see everyone discovering all sorts of strange ways to throw punches. Coaches and trainers will usually train their fighters to fight in a uniform manner, taking away their individuality. At the advanced level, many of the boxers all throw their punches and move the same. Sure they have their own style but their technique can be fundamentally the same. If you are able to make it to the higher levels of boxing using very uncommon techniques that advanced boxers aren't use to seeing, you will have a definite advantage.
It is very common in boxing to see a less skilled boxer beat a better boxer because he used anti-techniques. Instead of throwing a proper jab that will never measure up to your opponent's proper jab, you can throw an ugly jab instead and voila–it lands! These types of techniques are so effective that they can overcome an opponent's better conditioning, better experience, and better coaching.
What is the Disadvantage of Anti-Technique?
The BIGGEST disadvantage of anti-technique is that some boxers actually learn it falsely believing it to be proper technique. They win a few sparring matches against a common gym opponent, master this flawed technique, and start thinking their technique is perfect because it works. They enter a tournament and OH NO!–they get their butt kicked because the other guy used better technique.
Because anti-techniques are not sound techniques, they will only work in very few situations. Your opponent only needs to adjust his style or technique and he will quickly turn the fight around and beat you. Anti-techniques can only exploit your opponent's technique, not their style (hence the term, anti-technique and not anti-style). If all you know how to do is throw a looping right hand to counter someone else's straight right hand, you better watch out.
Just as anti-techniques are sometimes the reason for less trained fighters beating better opponents, they are also the reason some champions only win one championship fight and lose the first title defense. Weak champions will lose their titles quickly because they did not win with superior skills. They only got lucky and exploited the former champion's technique, but in time another elite fighter will come and take the belt away with superior technique.
Remember those times in the gym when your trainer told you not to do something? Like bend from the waist when you ducked under punches? You probably did it anyway because it helped you win fights. But then what? You fought someone much better and took uppercut after uppercut because your opponent had much better technique. Believing in flawed techniques gives you a false sense of security leaving you vulnerable to getting beat.
How do you beat anti-technique?
You use SUPERIOR technique. If the guy wants to be annoying and sneaky, suppose he throws off-rhythm jabs at you all day, you can use superior technique like head movement and follow-up with sharp counters. At this point, it doesn't even matter if he throws the jab properly or not because your superior technique will allow you to overcome his jab regardless of how he throws it.
My verdict? It's ok to learn anti-technique to to give you the edge over certain fighters' favorite moves. Be careful not to waste your time relying on it all the time in the ring. Once you know it works, move on to learning REAL techniques and more advanced proper boxing skills that will also help you win fights. Relying on the same "trick" over and over is a great to impede your learning process and also make you "that annoying guy" in the gym. The moment the other guys catch on to your cheap tactics, you can expect a massive revenge beating for all those potshots you landed.
What is style?
I define style as an EXAGGERRATION of movement (the way that a fighter expresses himself in the ring). Style is when you overdo a technique. Sometimes it has to do with an over-expression of a move or bending a conventional boxing rule. Style is very habitual and quite often subconscious, whereas anti-technique is often employed consciously with the purposeful intent overcoming the opponent's technique.
How is style an over emphasis on technique? Take a look at Mike Tyson. He only throws with power. Every punch he throws, he throws it with the intention of generating the maximum power possible. It becomes his attitude, his movement, his intention, his habit – his STYLE.
What is the Advantage of Style?
The advantage of style is that you take a critical rule of a technique and maximize it to your benefit. Suppose your next fight is against a weak-chinned opponent. Having power would become very important and you want to maximize the power output of every technique you use. Utilizing a power style would mean for you to exaggerate your techniques so that you could have the most power possible. Although your style would balance out by suffering in other important attributes of fighting (speed, defense, mobility), you will most definitely have the advantage of power over your opponent because you focused on a power style.
What is the Disadvantage of Style?
Your style is obvious. It can be seen. It can be studied. It is very transparent. You can watch a boxer and almost know what he's going to do because you know his style. However, just because you KNOW what he's going to do, doesn't always mean that you will win. Mike Tyson ruled the heavyweight division for years before someone came along that could finally take advantage of the one-dimensional power style he had.
Here's another recent-day example–Paul Williams. He is a tall freak of nature steamrolling the welterweight division with the arm length of a heavyweight. Everyone knew he was going to punch from long distance but nobody could do anything about it because his body shape afforded him such a high advantage. To beat your opponent, you must not only know his style but also be capable of taking advantage of his style. Every style has a weakness that can be beaten by a counter-style and comparable boxing skills.
How is Style different from Anti-Technique?
Whereas anti-technique is considered to be "wrong technique" or "bad technique", I define style as being the exaggeration of any technique–whether good or bad. Style is when a guy takes something and overdoes it.
Lets study one of my favorite boxers ever, Miguel Cotto. You can say that he has a left hook style because he takes a beautiful effective punch, like the left hook, and then throws it nearly half the time neglecting all his other punches. Or how about Floyd Mayweather? He takes boxing defense to a whole other level… to the point where his defense BECOMES HIS STYLE. Am I saying there's something wrong with too much defense? No, at all. But there are drawbacks to every style. For example: being too defensive takes away from your ability to do the opposite – which is BEING OFFENSIVE. Watch Pacquiao's pure offense style easily negate Clottey's pure defense style.
What about the "hands down" style? (ala Roy Jones Jr, Muhammad Ali.) Some people incorrectly refer to this as the "hands down" style. Actually "hands down" just means just bad defense–which isn't a style. The style that Jones and Ali used is actually a speedy counter-puncher style. They relied heavily on speed, reflexes, and precision counter-punching. Obviously a pure speed puncher like Roy Jones is going to have less defense because he's busy trying to get his punches out as fast as possible. His hands arrive much faster because they aren't used for defense. Of course we all know, that Roy Jones ended up paying the price one day for his flashy style when underdog Antonio Tarver knocked him out with a big left hand in 2004.
Many beginners don't understand is that Roy Jones and Muhammad Ali made the most of this style by actually throwing counter-punches. That detail is VERY important and often misunderstood. Because if you're just going to drop your hands and not throw counter-punches, you're just going to get knocked out.
"Styles Make Fights"
Styles make fights because they create huge advantages and disadvantages. Think rock-paper-scissor. The same style that gives you strength can become your weakness if your opponent has the ability to exploit it. Does this mean that you must fight with a neutral style? NO NO NO!
The better option is to keep your "style" balanced at all times by using complementary styles. In other words, when your opponent changes his style, you must respond and adapt if you want to continue beating him. Let's say for example that you have a punching style. You usually knock everyone out but now you're facing a guy who runs like hell and won't let you hit him. A great secondary style to use right now is a stalking style. This way, you can catch up to him and knock him out. It is very important that you learn how to balance out your primary style with secondary styles.
To the average spectator, they watching boxing and see a one-sided beat-down. They might think of the loser "Oh why isn't he trying something else? Why does he keep getting beat up the same way?" What they don't understand is that the superior fighter is maintaining a style balance by adjusting his style just enough to counter-act his opponents' style. Everytime the losing fighter adjusts, the winning fighter will counter-adjust. The winnner doesn't go overboard in over-adjusting that his adjusted style creates a weakness in him–he adjusts only enough to keep winning the fight. Masterful boxers like Floyd Mayweather understand this.
How do you beat a style?
You use a counter-style. Unlike anti-technique which can be overcome by using superior technique, you have to beat a style by going AGAINST the style. Suppose you hate fighting tall opponents. You can try all you want to learn superior techniques like maybe better defense or better footwork, but that can only work for so long. Inevitably, regardless of how much better your defense is, you will still have to deal with the fact that he has a longer reach than you. The moment your better defense begins to fall apart, you will panic and realize that your opponent's reach advantage is still affecting you. You must understand that only a better counter style will completely nullify a style. Better technique will not nullify his style–the fact that you have better defense will not take away his reach advantage! (It will only protect you from it.)
If you want to beat this tall guy, you must learn the weakness of his style. His perceived advantage of height BECOMES his weakness. By now, you might even prefer that he is tall. Perhaps his tall body makes it harder for him to defend his body. Or maybe his long arms take longer to return to his face. Now you're happy he's tall because you know his weakness.
Now that you've developed a new style by adapting to his weakness, you might win regardless of how good (or bad) your technique is. Now your body punches on the inside will connect regardless of how well you throw those body punches. You can throw the ugliest body punches and they will still be effective because his style is inevitably vulnerable to them.
There is also another way to beat your opponent's style. That is by using superior technique but there are some limitations. If you use only superior technique and don't combine it with a counter-style, it will be VERY HARD to beat your opponent. Think about it for a second. Suppose you fight Mayweather and he's got a tight defense. If you try to go out and use a superior defense, it's unlikely to work because it's not the right counter-style. Not only will he be more experienced at you in that technique, you're also not creating a weakness for him out of his style. The right way to beat Mayweather is to find out a way to take advantage of his defensive style.
Where do style and anti-technique come from?
I believe they originate from 3 causes:
Physical build. Your genetic body-type, muscle structure, and joint layout uniquely determine range of motion and preference of movement. Different body structures will have different body mechanics.
Mental attitude. This is usually instilled by your trainer and sparring experiences. You will probably fight only the way you are trained and probably won't develop any new style UNLESSS…. your sparring experience forces you to adapt a new style. Suppose you're use to sparring only left-handed opponents. Naturally over time, your style will develop into one that is perfect for dealing with left-handed fighters.
Purely accidental. Yes, sometimes you will do a move entirely by accident and it works. From that point on, you remember the move and use it for the rest of your career expecting good results.
Style Is Often Permanent Whereas Technique Is Not
Style is very habitual. It is ingrained in the boxer's mind and attitude usually very early on in his career. When refined and perfected, it will lead him to great success. When stubborn and inflexible, his style will lead to his downfall.
Assuming all levels of skills, luck, and intangibles are EVEN:
I truly believe that when one fighter beats another fighter twice, it is usually because the winner had the superior style. HOWEVER, when the losing fighter wins the rematch, it is because he changed his technique and NOT his style.
If you ever want to beat a fighter, you want to beat his style while using superior techniques (instead of focusing on anti-techniques). Using superior techniques will elevate the game allowing you the best chances against anyone regardless of style. Using superior technique will allow you to stay undefeated for the longest time and with the least vulnerability.
At the same time you want to be careful that your opponent isn't exploiting you with his anti-techniques. You should always have a mix of secondary styles and alternative boxing movements to use in case you find yourself vulnerable to a technique you've never seen before.
Bruce Lee said it best. He stressed the importance of "Having no style as style." Staying "Without form and without limits" "Be like water!" he urged.