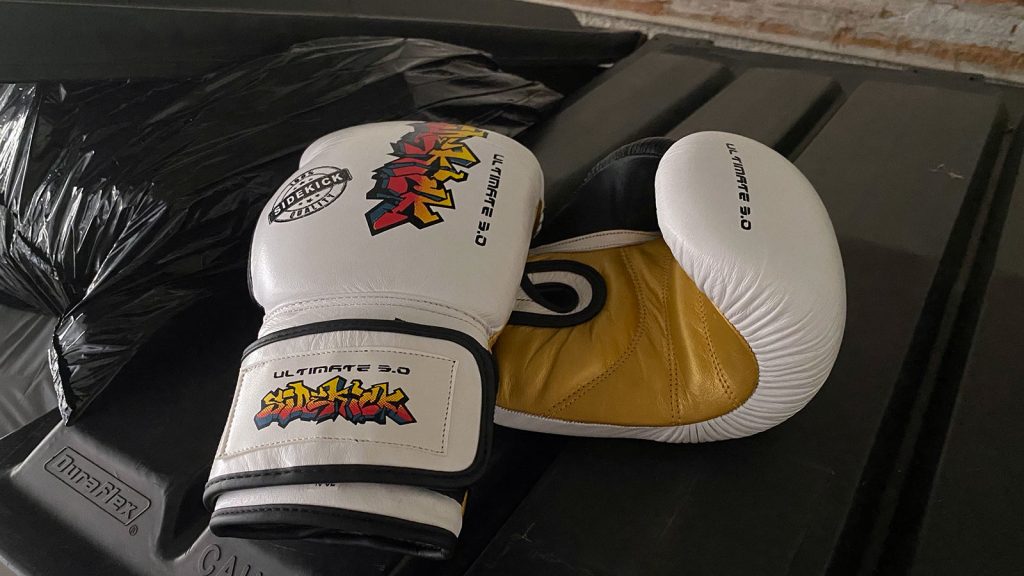 My review of this cheap glove brand from the UK (and definitely made in Pakistan).
If you want to save time…just don't buy it, don't read this guide, forget you ever heard about the brand.
But if you really need details, here they are:
Poor quality and protection.
(I apologize in advance for anyone offended by my dramatic intro photo.) Let's just make this quick and painless. I already feel bad they sent me 2 pairs of gloves. I warned them I would hammer the brand if I felt it sucked and boy did they deliver (on the suckiness).
Sidekick is about the worst gloves you can train in…and I mean that in a good way.
On a scale of 1 (worst) to 5 (best), Sidekick gloves ranges from 1 to 2. Their worst ones are about 20 GBP ($25 USD) and their top ones are like 55 GBP ($60 USD). The ones I got were their "high-end" models and these were already trash for me. I can only imagine their other ones being completely unusable.
Everything cheap – cheap outer material (sometimes leather, sometimes plastic…faint plastic smell), cheap lining, cheap piping. Cheap velcro straps but do they do feel secure.
The cheap straps are part vinyl and part elastic…both of which I don't expect to last long. The way the velcro is constructed on the inside of the strap is super cheap. Please compare with the ones on TopBoxer and you'll see difference.
Super stiff padding – way too hard for sparring. I suppose some people might generously call these "great support for bagwork".
Inside lining is floppy. Not held in place. I suspect it'll come loose soon and your fingers will be clutching foam in no time.
Stitching on the inside lining is already coming loose even though I've worn these less than 10 times. The 14oz pair didn't have this issue but both gloves on the 16oz did.
The inner wrist padding seems loose inside the glove. Not stitched or glue into place. It's only loosely "held" in place by the floppy inside lining. So once your inside lining gets loose and whatever else glue wears out, I suspect you'll feel layers of padding shifting around.
Kind of funny that a small strip out of the fake leather fell out of the glove when I was digging my hand around inside it.
I feel their design is more for MMA and kickboxing. You can tell by the tighter fit (usually for fighters not wearing wraps) and also the dual-strap velcro (which are usually too annoying for boxers with handwraps). Also the padding around the palm area and bottom edge of the hand.
The aesthetic styling is very toyish. Looks like something from a sportstore. Weird street graffiti graphics from a Grand Theft Auto video game.
I only took photos for posterity. This glove really doesn't deserve any attention at all.
I don't recommend these gloves at all, not even for beginners. If you want to be totally cheap and punch at 25% power with these on, sure they are better than nothing. But otherwise…you should use better gloves. It's not a matter of price but HAND SAFETY, which you use for everything (not only boxing).