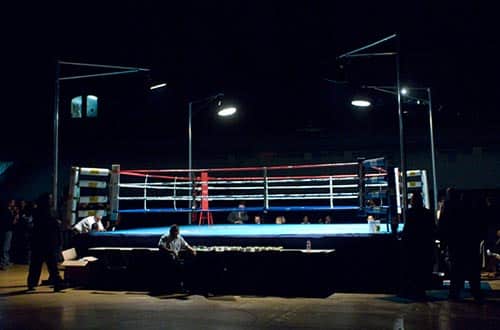 Every fighter who has ever lived has been afraid before.
Why do some fighters go on to become world champions whereas others retire without a single win? If you've been training long enough, you might realize there's no amount of training that will ever give you complete confidence. You can't train confidence, it's an attitude.
Let's break down why you're scared to death of getting in that ring. More importantly, how to overcome that so you can start winning fights.
I remember being scared as hell before my fight. The whole time, I walked around beating myself up mentally. I wasn't just scared of losing, I was PREPARING TO LOSE. The whole time, I was thinking…
What am I doing here? Why didn't I train harder? Oh my god, he [my opponent] looks amazing! I don't think I can win. I don't want to be here. I don't want to get hurt. I don't want to lose in front of my friends and family. I don't want to wimp out like a sissy. I'm scared of losing.
I thought I was the only person scared like that but just the other day, I received my millionth comment about somebody wanting tips for their first fight. It went a little something like:
Johnny, can you give me some tips for my first fight? I'm scared.
As we may have already figured out, you don't really need tips, you just need confidence. You've been training all this time and absorbed all the boxing skills you could have possibly learned. The only thing you're missing is confidence. And I've come to realize that most fighters lack the confidence for their first fight for 2 reasons:
1) They're unprepared.
They know deep down they haven't been working hard in training. They're scared now when they realize how much more they could have done and how much harder their opponent could have been training. The only person you have to blame for slacking off, is yourself. It's up to you to accept that in the fight, or to delay your first fight till a later time. If you didn't train 100%, don't ask for a victory. That's all I'm saying.
2) They have the wrong attitude.
Bad attitude can be unproductive attitude or negative attitude. They come in there wagering the end of the world on their first fight. The usual negative thoughts sound like:
"If I don't win this, I'm nothing."
"If I lose, my friends will think I'm a loser."
"I don't want to look like crap in front of my friends."
"Mike Tyson, my hero, my trainer, my dad, my world champion older brother never lost a fight, so I'm not allowed to lose either."
It's sad, but we'll work on this. I can't guarantee that you'll win your first fight but I can definitely guarantee that you'll approach the fight differently, give yourself a better chance to win, and look at yourself in a more productive mindset than ever.
Reasons Why You're Nervous Before Your First Fight
You're Physically Unprepared
Most people don't know what it means to train 100%. They THINK they do, but they don't. Giving something 100% means more than just going until you're tired. It means wanting something more than anything you've ever wanted. That being your best is more important than playing video games or hanging out with your friends. To give something 100% means to give 100% of your heart. But of course, most people will never have the confidence to do this. They're afraid of failing after they've given it their all. They're afraid of looking like a fool after giving it everything. I promise you it will change your life. Give yourself 100% to training, to ANYTHING, it will change your life.
Want to know what 100% looks like? Go to a fight and watch for the fighter that cries when he loses. It never ceases to amaze me how much people love boxing. If you cry when you lose, that's when you know you gave it 100%. You didn't cry because of the pain or because of shame, you cried because you gambled everything and lost. I respect this guy more than anything else, sometimes I'd rather cry with the loser than celebrate with the winner. That's the greatness that boxing brings out in us. I dare you to try the same.
Preparing for a fight means preparing to give it everything you've got. It's not just getting in shape and being confident. Next time you finish a workout, don't ask yourself "Did I go 100% today?" Ask yourself, "Did I want it 100% today?" Are you giving your heart every single day?
When you want something bad enough, you won't be afraid. You'll be excited come fight day because fighting what was you REALLY wanted. You won't be scared at all because you couldn't wait for this day to arrive. Now you know what 100% is.
Taking a Blind Fight
It's like going on a blind date. You don't know anything about your dance partner so you don't know what to expect. I'd be scared too if I were you. Don't let your gym throw you into any fight. Make sure your trainer is looking out for you and not pitting you in above your level. This isn't chess, you can get seriously hurt if you get put in with someone who has an unfair advantage over you.
Who is the other guy trained by? Is he Mike Tyson's twin brother? Does he have a record in Cuba/Russia of over 200 fights? Does he cut massive weight and plan to outweigh you by 15 pounds? Is he a soft 140lb 18-year old kid or a ripped140lb 26-year old man? Is he a recreational boxer or a guy sharpening his skills before he goes "pro"? There's just so much you don't know about. The nature of competitive fighting will never be perfectly "fair", so it's your responsibility to watch out for yourself. People get seriously hurt all the time.
The first smoker I ever had, my trainer spoke to the event coordinator to change up the roster because my opponent had OVER 90 FIGHTS in Mexico. Thank god, Rick was looking out for me. When you take your first fight, you should be comfortable and know that they're not using you as feeder fish. Your trainer should feel comfortable and trust the other trainers to match fairly.
Not Maximizing the Talent in Your Gym
Some of this is common sense but for many people it's not. Your gym is full of talent. Even guys that you beat up everyday have a talent you don't have. Ask everyone for advice. Let everybody know that you have your first fight coming up and that you're nervous as shit. You might be shocked at how much they want to help you and support your first fight. We've all been there before. You will be amazed at how many guys will tell you what you're good at and what your weaknesses are. There is absolutely no excuse for not having met everybody in your gym. They are all potentially friends and people who will make you a better boxer! Ask everyone you know for advice.
Negative Thinking
The WORST thing I've seen fighters do is think negatively. They say negative stuff like, "I'm no good. I'm gonna get beat up." Holy crap, no wonder you're going to lose. You beat up yourself before your opponent even gets to you. Look, it's not your job to make yourself lose, that's your opponent's job!
Be a good coach to yourself. Good coaches don't say, "You suck, you're no good." Good coaches don't let you imagine a thousand ways to fail and focus on all the little mistakes you make that could cost you the fight. Focus on the positive, focus on what you CAN do. The more you focus on what you CAN do, the more you realize you have a better chance of winning. Guess what? Thinking positively actually raises your chance of winning because you're focused on how to win, instead of how to lose. Coach yourself positively.
Worried About Outcomes
So many boxers are so afraid of the fight. So afraid of hearing the decision. I realized they are more afraid of the fight having an outcome on their record than the actual fighting itself. That's the appeal of sparring, right? Win or lose, it doesn't affect your record. Look, the outcome of the fight doesn't matter. The fighting in between the ring, that's the fun part. That's what we're all here to do. Have fun with it, treat it like a hard sparring match if you must. Losing is not the end of the world. Win or lose, nobody really cares. I know you trained hard and that's why just making it to your first fight is already a victory in itself. Whether you win or lose is not important. What matters is that you had fun and learned something.
The Right Attitude For Fighting
You're Special
You came to boxing to be a fighter. You're here to be a warrior and test yourself against all odds. If you wanted so badly to win, you would have played an easy game of checkers. But instead you're here pushing your limits, and for that you deserve respect. Climbing through those ropes is something most people would have never done. Never forget that. You're here to be a fighter, and the one thing fighters do is FIGHT. Fights are won in the gym (training), but the fighting is still more important than training!
As long as you're climbing in the ring, you matter more than anybody else in the place. Everyone else sitting on the sidelines and training in the gym don't matter. You're more important than all of them. They're watching you fight. Never forget that. Even if you lose, they're watching you lose…THEY'RE WATCHING YOU!
Whoever's doing it, is right.
Learn Something
If you really want so badly to win, just fight a tomato can. Fight somebody who has no chance of beating you. Fight an old guy in the back of the alley. If you want to challenge yourself and learn something, then climb through the ropes! Get in the ring, win or lose, LEARN SOMETHING! You do that, and you're a success.
Focus on yourself
You can't affect how your opponent performs, you can only affect how YOU perform. So focus on yourself. Warm-up, stretch, go through drills to make yourself the best fighter possible. Stop checking out other fighters, stop looking for your opponent, stop comparing yourself to others. Think about what YOU can be doing to make yourself better. There is nothing else to be thinking about. Worrying about how hard somebody else hits is not going to help you in anyway whatsoever. Focus on yourself!
Moving Forward
Think of the fight as feedback. It doesn't tell you if you're good or bad. The fight doesn't tell you if you're a real man or not. The fight tells you how much you've improved along the way. It tells you what you need to work on and what you're doing well. Nothing less, nothing more. Getting into the ring is simply a step forward in your boxing career. This first fight won't matter much if you're going to be boxing for much longer and continuing to have more fights. Whether you win this fight is irrelevant. It is simply one step out of a long successful boxing career.
Looking back, I remember trainers that trained their fighters for a REALLY LONG TIME and moved them slowly so that they would have perfect victories. If I had it my way, I would have much rather exposed the fighters to their beatings early so that they learned right away what was needed. The sooner you are exposed, the sooner you will adapt. Don't train all year to become the perfect undefeated fighter. GET OUT THERE!
When you want to be great,
there's no time to be afraid.
My friend told me a story of how his coach use to pick her fighters during the tournaments. She would take the team to tournaments and ask them one-by-one, "Do you want to fight?" If the fighter hesitated or said anything other than "yes" within 2 seconds, she would immediately say, "Nope, you're not ready." The fighter would spend the rest of the day sitting on the bench, watching his teammates and feeling stupid for having trained the whole week without anything to show for it. It wasn't long before everyone said "YES" immediately so they could have fun and tell their fight story with the team.
Enough of this motivational crap. Watch out for the next guide where I release some solid tips and advice for your first fight.
Now I'm curious to know: for the guys that have already had fights. How did you guys build your fight confidence? How did YOU get over the fear of losing? Share your experience.